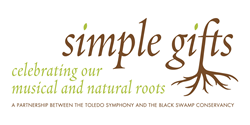 This property is truly an important cultural and natural resource.
Toledo, OH (PRWEB) April 24, 2014
The Toledo Symphony and the Black Swamp Conservancy announce the fourth concert in their "Simple Gifts" concert series, made possible by a grant from the National Endowment for the Arts.
On May 18th, the Toledo Symphony Chamber Players perform at the historic Peninsular Farms in Fremont. The concert starts at 4pm. The program is as follows and includes the popular Appalachian Spring by Aaron Copland:
Rossini – Overture to La gazza ladra
Gould – Pavane from Symphonette No. 2
arr. Kibbe - Stephen Foster Medley
Chambers – The Long-Eared Fox and the Wild-Eyed Man
Ungar – Ashokan Farewell
Friedrich – Selections from American Brass Band Journal
Anderson – Blue Tango
Copland – Appalachian Spring
Copland – Hoe-down
trad. – Beautiful Ohio
"Black Swamp Conservancy is pleased to invite the community to Peninsular Farms for this unique experience," remarked Conservancy executive director, Rob Krain. "This property is truly an important cultural and natural resource, and we are grateful to Don Miller both for hosting the event and, more importantly, working with Black Swamp Conservancy to ensure its permanent protection."
Audience members are encouraged to bring their own chairs and blankets, as the concert is in a natural setting outdoors. Parking will be available onsite.
About Peninsular Farms
Located just outside of Fremont, the 470-acre Peninsular Farms features an incredibly diverse habitat of woods, farmland, meadows, and wetlands. Situated on a three mile stretch of the scenic Sandusky River, the farm is home to deer, great horned owls, hawks and countless other species – including two pairs of nesting bald eagles.
Peninsular Farms has an amazing history. In 1781, the Wyandot Native American tribe gave the land the farm sits on to James and Elizabeth Whittaker (their captives since childhood), who became the first white settlers north of the Ohio River between Pittsburgh and Detroit. The Whittaker's gravesite is located on the property - only a few hundred feet from the site of their original trading post.
In 2001, owner Don Miller and Black Swamp Conservancy signed a perpetual land conservation agreement, forever preserving the ecological and historical value of Peninsular Farms.
Guided walking tours of the property will begin at 2:00 p.m., and embark every 15 minutes. Guests wishing to take part should note that the walks will take place on unpaved terrain, and should dress accordingly.
For Tickets
Although tickets are free, they must be reserved in advance through one of two locations.
For the Toledo and western region, tickets are available via the Toledo Symphony box office at 1838 Parkwood Ave, Toledo (M-F 9-5) or by calling 419-246-8000.
For the Fremont and Sandusky area, interested audience members should pick their tickets up by visiting the Sandusky County Convention and Visitors Bureau at 712 North St, Fremont (parking adjacent to fairgrounds). The Visitor's Bureau is open M-F 8:00-4:00 and can be reached at 419-332-4470.
About the Project
TSO ensembles were tasked with performing four seasonally-themed concerts on land under conservation easement with the Black Swamp Conservancy. Two performances of a newly commissioned work by Evan Chambers—inspired by the performances and locations of the seasonal concerts—for the TSO Chamber Players will complete the project in September 2014 (at Goll Homestead in Archbold and the TSO Chamber Series opening weekend). This project is made possible by a grant from the National Endowment for the Arts.
"Connecting people to the landscape is an essential part of our work," remarked Tom Reed, Conservancy board president. "We are so pleased to be a part of this project, which will engage the public with the lands we protect in a unique and inspiring way."
Other Project Locations – Archbold and Toledo
All Simple Gifts concerts are not only connected to a sense of place through stunning natural settings, but also by pieces of music that are connected to the changing seasons of the year.
Remaining concert dates are as follows:
o May 18, 2014 @ Peninsular Farms in Fremont: TSO Chamber Players
o September 7, 2014 @ Goll Homestead in Archbold; Premier of commissioned piece by chamber orchestra
o September 14, 2014 @ TSO Chamber Series