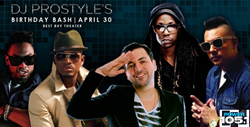 The grand prize winner will take a selfie on stage with DJ Prostyle, present the H2O birthday cake and signed birthday card, and meet one of the headlining performers
Fort Lee, NJ (PRWEB) April 18, 2014
H2O Wireless is proud to announce the DJ Prostyle Birthday Bash Ticket Sweepstakes. As an official sponsor of the event, the no-contract wireless service provider will grant one lucky person the ultimate access pass to one of the year's most anticipated concerts. The grand prize winner will take a selfie on stage with DJ Prostyle, present the H2O birthday cake and signed birthday card, meet one of the headlining performers, and score tickets to the afterparty. Two runner ups will also get a chance to meet one of the headlining performers. This year's concert will be held at the Best Buy Theater in New York City.
HOW TO ENTER THE DJ PROSTYLE BIRTHDAY BASH TICKET SWEEPSTAKES
Some of the hottest hip-hop and R&B artists will come together to celebrate Prostyle's birthday. Concert goers can expect to see 2 Chainz, Miguel, Ne-Yo, Sean Paul, and more! H2O will make a cake for the birthday guy and his guests, and provide a birthday card for concertgoers to sign. To enter H2O Wireless' DJ Prostyle's Birthday Bash Ticket Sweepstakes, go to http://bit.ly/1kttNM4 and fill out the entry form and follow @H2OWireless on Twitter. No purchase necessary. A purchase of any kind will not increase your chances of winning.
MORE GIVEAWAYS AND CONTESTS
H2O Wireless will be at the concert! Stop by our booth and wish DJ Prostyle a happy birthday by signing his card. We'll be giving away afterparty tickets to some of our visitors. There will be a charging station for concert-goers to enjoy, photo props to use, birthday cake to enjoy, and goodie bags to take home.
About H2O® Wireless
H2O® Wireless offers no-contract wireless services for every need and budget on nation's largest and most reliable GSM, CDMA and 3G/4G networks. Get unlimited domestic and international talk and text, data, pay-per-use plans and more with phones from every major brand. Or, use H2O® Wireless with your existing iPhone, Android or other smartphone with H2O SIM Starter Kit – all with no activation, overages or hidden fees. Find H2O® Wireless at over 100,000 retailers nationwide including Best Buy or visit http://www.H2OWirelessNow.com. H2O® Wireless is a Locus Telecommunications brand.
About Locus Telecommunications, Inc.
Headquartered in Fort Lee, New Jersey, Locus Telecommunications has been an industry leader for nearly three decades, with proven offerings in long distance, prepaid wireless, point-of-sale and carrier services within U.S. Today, Locus has more than 200 employees, serves more than million customers, maintains a national distribution network that spans over 100,000 retailers and generates more than billion network minutes each month. Throughout its growth, the company has kept its focus on its customers while always staying ahead of the curve – with advanced technology that meets consumers' emerging needs and affordable services to save them money. Locus is a subsidiary of KDDI, a $40-billion leading global carrier. http://www.locustelecom.com.
About KDDI Corporation
Based in Tokyo, Japan, KDDI Corporation is a leading global communication service provider with a proven track record of quality and reliability in 170 countries worldwide. KDDI has 100 offices in 26 countries in the world, and more than 18,000 employees. KDDI offers quality services and effective solutions for both consumer and business partners. KDDI's brand "au" delivers mobile and fixed-line services facilitating convenient and effortless communication experience for consumers. With multitude of and ever-expanding ICT realm ranging from FMC networks to data centers, applications and security strategies strengthen KDDI's business clients. KDDI group strives forth another step closer to become a truly global company through diversity, integration and persistent expansion into international community. http://global.kddi.com/