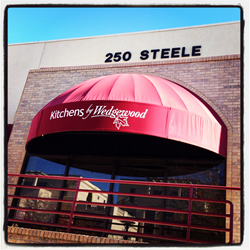 Denver, CO (PRWEB) April 18, 2014
What better way to celebrate 30 years of business than with a new showroom? And what better way to celebrate a new showroom than with an open house? Since 1984, Colorado-based Kitchens by Wedgewood has been crafting top-quality cabinets and constructing high-end home remodels, and the company has a new Denver showroom to showcase what your next project could look like.
The new Kitchens by Wedgewood showroom at 250 Steele St. in Denver is conveniently located in the heart of Cherry Creek North. Kitchens by Wedgwood wants to show off its new showroom, so swing by the open house 4:30-7 p.m., Thursday, April 24. The open house is open to the public and will include wine, beer, appetizers, door prizes, and a chance for some informal networking. Those who are planning to attend should RSVP to the Facebook event. Street parking is available.
Kitchens by Wedgewood also invites architects, contractors, electricians, plumbers, and other tradespeople – along with the general public – to an open house on May 29. The trade event will be 4:30-7 p.m., Thursday, May 29, and also includes wine, beer, and appetizers. Come meet and mingle with those who work in the construction and remodeling industries.
The new showroom on Steele Street opened in February with about 1,700 square feet that features model kitchens, bathrooms, and other rooms. Each Kitchens by Wedgewood showroom is unique, and each one includes "vignettes" to show customers what their home construction projects could include. As Kitchens by Wedgewood's newest showroom, the Cherry Creek location has the "latest and greatest in trends and styles," said Jim Ames, president and general manager of the company.
When Kitchens by Wedgewood was looking for its new space, the Steele Street location in Cherry Creek North "felt like it was the right place for us," Ames said. Kitchens by Wedgewood has two other Colorado showrooms at 1685 Boxelder St. in Louisville and at 9619-F E. County Line Road in Englewood.
About Kitchens by Wedgewood
Since 1984, Kitchens by Wedgewood, a Colorado company, has built its reputation for fine cabinetry for every room of the home. Kitchens by Wedgewood provides expert designers and delivers excellent customer service as we oversee your renovation project. We carry top national cabinetry brands, but we also manufacture our own line of custom cabinets at our Louisville, Colorado location. The products we carry and the products we make are the highest quality available, and our company is able to use them to customize any room in the home. Don't be fooled by the name; Kitchens by Wedgewood does more than kitchens. Home theaters, home offices, nurseries, laundry rooms – any room can be remodeled using our quality products, our design expertise, and our partner architects, contractors, and tradespeople.
For more information, visit http://wedgewoodcabinetry.com.