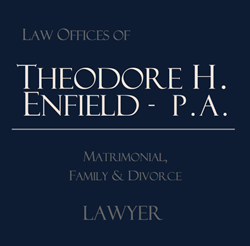 MIAMI, FL (PRWEB) April 17, 2014
Even the smoothest divorce can be a difficult time for both parties involved to handle; a period of recovery is typically required. There is a large emotional toll and much stress surrounding a divorce. Most people feel angry and depressed while going through a divorce, and many of them have trouble functioning on a daily basis.
Theodore Enfield, an experienced family lawyer, announces a complimentary consultation for divorce services to couples in the Miami Dade and Miami area. From a legal perspective, a Miami divorce attorney can help couples cope with the situation. Theodore Enfield is much experienced in the divorce area; he will explain divorce rights and help clients navigate the complexities of divorce law. The goal is for the client to get what he or she is due during dissolution of the marriage. The best divorce lawyers achieve this with minimal negotiations and disputes, making the situation as comfortable as possible for their clients.
A divorce can affect a couple legally, financially, and emotionally. Although deciding to get a divorce isn't easy, certain steps can be taken to make the process much easier. Theodore Enfield can help in providing the help and advice that is needed in making the divorce period as smooth as possible.
Divorce help is needed when one spouse tries to prevent the other from proceeding with a divorce or when the parties agree on divorcing but cannot agree on child custody, property division, or other relevant issues. A specialized attorney provides support and guidance to streamline the process while minimizing the negative emotions involved.
The Law Firm of Theodore H. Enfield can help Florida families with different family law issues pertaining to divorce, domestic violence, prenuptial agreements, equitable property settlements, child custody, and child support.
With years of experience handling court cases and different family law scenarios, Theodore Enfield has built a reputation as the most trusted Miami family lawyer.
When meeting with individuals or couples seeking for a divorce, before any proceedings begin, the attorney ensures his clients know exactly what to expect before they file.
The Miami Dade county attorney provides each client with a complimentary Florida family law consultation explaining the impact divorce and will have on them financially, in addition to the potential implications it may cause on the rest of their family. T. Enfield is also an expert on legal separation Florida laws.
Before making any major decisions, Enfield encourages clients to first seek his consultation services to get a firm understanding what is expected and the potential expenses associated in filing any lawsuit.
To schedule a complimentary consultation or inquire about different family law services the Law Firm of Theodore H. Enfield offers, call their direct line at (305) 933-9592 or toll free at 800-733-5299 or visit their website at http://www.theodoreenfield.com/.