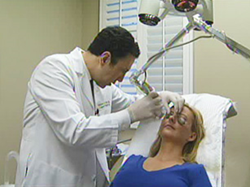 Los Angeles, CA (PRWEB) April 17, 2014
According to the April 2014 issue of InStyle Magazine, varicose veins are veins that have become twisted and enlarged. They often manifest as bulges in the legs and may exhibit a bluish discoloration in a web-like pattern. Except in certain rare cases, varicose veins are not life threatening. However, they are unseemly, causing embarrassment and distress. Fortunately, there are a number of measures one can take to eliminate or minimize the appearance of varicose veins. (see: goo.gl/ULpMlM)
"In most cases, varicose veins don't show up in people in their twenties," says Dr. Simon Ourian, Medical Director of Epione Beverly Hills. "They are, however, hereditary and action taken in one's twenties may determine the severity of varicose veins later in life. One of the primary causes of varicose veins is blood flow restriction to the legs. Sitting still for long periods of time can cause veins to swell that, over time, may lead to permanent bulging. By simply getting up and walking around every few hours, one can greatly reduce the risk and severity of varicose veins."
According to the article, varicose veins often rear their ugly head in a person's thirties. Faulty valves, hormonal changes brought on by pregnancy, weak vascular walls and belly fat can all contribute to the development of varicose veins during this period of life through a variety of mechanisms. One can battle back by using antioxidant lotion to protect proteins that firm collagen and wearing compression stockings at least four days a week to further improve circulation. It is suggested that upon turning forty one should switch to a skin cream that contains growth factors such as retinol and in one's fifties to apply a cream that contains Vitamin K to reduce bruises.
"We can reduce the appearance of varicose veins with sclerotherapy, chemical injections that destroy smaller problem veins or laser therapy," says Dr. Ourian. "Neither of these treatments is considered painful nor requires substantial recovery time. Sclerotherapy may take several treatments before results are seen, while laser therapy is more likely to show immediate and continuing results. The right choice will depend on the size and number of varicose veins."
Dr. Ourian has been a pioneer in laser technology and non-invasive aesthetic procedures including Restylane, Juvéderm, Radiesse and Sculptra. These treatments are used for the correction or reversal of a variety of conditions such as acne, acne scars, skin discoloration, wrinkles, stretch marks, varicose veins, cellulite, and others. More information about varicose veins can be found on Epione's website.