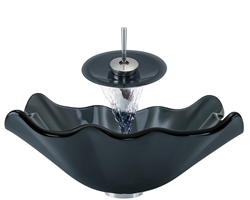 Designs range from classical to contemporary.
Toledo, Ohio (PRWEB) April 17, 2014
MR Direct is excited to announce that it is now offering, for the first time ever, vessel sink packages which will only be available online, through the Amazon and eBay websites.
All sixty-two glass, and three bamboo, vessel sinks in the current MR Direct line are being sold as the base of a four-piece package. In addition to the sink, consumer's can choose one of four distinctive vessel faucets, a pop-up drain, and a sink-ring seat.
The glass collection of MR Direct sinks is both broad and beautiful. Designs range from classical to contemporary and all are manufactured using tempered glass for strength and safety. Because the surface is non-porous, it is stain-resistant and easy to clean. The MR Direct bamboo sinks are made from 100% natural bamboo stalks. Layered, laminated and lovely, these natural sinks continue to increase in popularity.
The inherently captivating MR Direct glass and bamboo sinks are typically paired with their matching waterfall-style faucets. This distinctive water-tap features a glass or bamboo disc which is identical to the bowl. Water cascades freely from the tall spout, over the disc, and into the basin. Coming soon, in addition to this waterfall style, three other vessel faucets will be available: the tall, cylindrical design of the 718, the angular, geometric 721, and the curvaceous 726. All feature a solid brass waterway construction, and all are available in a brushed nickel, chrome, or oil-rubbed bronze finish.
A pop-up drain, unique to the vessel sink design, is also included. With a simple press to the top cap, the drain is pushed open or closed. This mechanism provides the opportunity to repeatedly fill and empty the basin. Caution must be taken, however, as most vessel sinks do not have an overflow feature. The same three finishes used on the faucets, are available for the vessel pop-up drain.
The final piece of hardware bundled into this package is the sink ring. This ring serves both a functional and decorative purpose. To prevent the vessel from resting directly on the countertop, the ring acts as a seat and adds stability. It is also available in any of the three MR Direct finishes and, when matched to the other fixtures, provides a beautiful uniform accent to the sink.
These ensembles can be viewed online at Amazon.com and eBay.com.