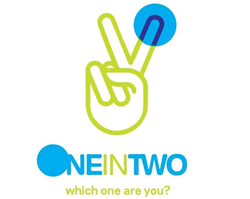 Chicago, IL (PRWEB) April 17, 2014
Today, more than ONE IN TWO children suffers from chronic illness. Although many experts discuss primary triggers for autism, birth defects, infertility, gut disorders, cancer, and other chronic illnesses, triggers continue. Citizens have the power to create positive change. The ONE IN TWO movement is committed to educating and inspiring millions of parents and future parents to transform, protect, and restore the health of children.
Citizens can turn things around for the better and change history. Need the tools? Join One in Two in Chicago on May 21 to become part of the solution at the Intercontinental Chicago O'Hare Hotel. In this initial launch event, there will be tools to become a changemaker and to inspire other changemakers.
On May 21, organizations will identify solutions, inspire activism, and chart an organized course of action that sends ripples around the world and through generations to come. Years from now, children and grandchildren will be thankful for the participants on May 21 in Chicago who took a stand for the future.
The AutismOne 2014 Conference will continue throughout four additional days – extending May 21 to May 25 -- with over 100 speakers covering the latest biomedical research and treatment information, educational therapies, advocacy, and more.
AutismOne presenters include Dr. Judy Mikovits speaking on "Environmental Causes of Autism: Investigate If You Dare," Dr. David Lewis presenting "Science for Sale," and Susan Lee, JD, speaking on "Vaccine Safety Gaps."
Dave Asprey, creator of Bulletproof Executive, will share his goal of finding and helping others uncover and eliminate all causes of neurological inflammation in order to increase human performance in those on the spectrum or not.
"One in Two: which One are You?" Join the changemakers in Chicago.