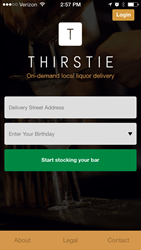 New York, NY (PRWEB) April 16, 2014
THIRSTIE, the New York-based on-demand wine and spirits delivery marketplace, is pleased to announce that it has extended its service to customers in the Los Angeles and Chicago markets.
"The initial response to THIRSTIE has been overwhelmingly positive in Manhattan and Brooklyn," said THIRSTIE CEO Devaraj Southworth. "We are thrilled to be able to extend our reach to cater to customers whether they are in West Hollywood, Los Angeles or downtown Chicago: so they can devote more time to cooking, wine tasting or mixology fun with friends."
Since announcing THIRSTIE's public beta in late February, month over month adoption has exceeded expectations, stimulating THRISTIE to build out relationships with new retail partners in both of these key markets. Leveraging its turnkey onboarding approach for retailers, THIRSTIE has now made wine delivery and liquor runs available in more locales than other direct competitors. As of now, THIRSTIE has a return user rate of 50 percent, underlining the value that the company provides local wine and liquor retailers in terms of customer retention and increased purchasing volumes.
THIRSTIE brings the convenience of bottle service to your door; eliminating trips to the liquor store, long waits in lines and heavy bottle lugging back to your home. THIRSTIE is the only wine and spirits delivery service that can be accessed via online, iOS and Android app, enabling almost any customer of legal age to experience the convenience of delivery. THIRSTIE provides a simple, intuitive user experience that makes your favorite liquors easy to find while also serving as a discovery tool for new products that might be out of the ordinary.
Using THIRSTIE is easy. After downloading and opening the app, the customer is instantly connected to participating liquor merchants closest to their desired delivery address. THIRSTIE provides users with information about each product such as the size, alcohol content and price. The customer can shop as long as they like, selecting options and adding them to their shopping cart. When ready to check out, the customer selects the shopping cart option where they can view everything that has been added. The customer then selects their payment method and completes the order. Once the order is confirmed, the customer receives an email verification and delivery of their wine or liquor purchase will arrive within the hour.
Similar to food delivery apps, like Seamless, customers can easily access THIRSTIE online at https://THIRSTIE.com or download the THIRSTIE app for Android or iOS devices. Merchants interested in leveraging the THIRSTIE platform can learn more at http://THIRSTIE.com/merchants.
About Thirstie
THIRSTIE is the on-demand wine and spirits service that delivers alcohol when you want it, where you want it. THIRSTIE seeks to be the go-to discovery tool for the growing cocktail culture for everyday bartenders. Visit Thirstie at https://THIRSTIE.com/ and follow the company on THIRSTIE Blog, Facebook, YouTube, Twitter and Instagram.