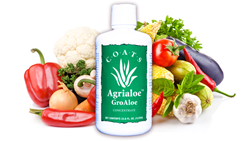 Dallas, TX (PRWEB) April 17, 2014
In collaboration with a newly optimized e-commerce web site, Coats Agrialoe is excited to announce the GroAloe sample giveaway. For more information, visit http://try.agrialoe.com
GroAloe, a natural soil amendment comprising 99.4% organically grown aloe vera, is an environmentally safe alternative to its chemically created competitors. This free sample is perfect for recreational home gardeners.
Soil amendments help to improve the soil by increasing nutrient uptake and promoting more efficient water usage. GroAloe does this without harmful chemicals and is safe for home use.
"I believe this is the most significant product we have made to date," says Bill Coats, founder and CEO of Coats Agrialoe. Coats' patent with aloe vera has been used to develop more than 1,000 aloe vera-infused products, including cosmetic treatments and pain relievers.
This sample giveaway will only be available for a limited time. To receive your sample, visit http://try.agrialoe.com and register.
Interested in placing a larger-scale order for high-volume agricultural projects? Call 1-800-486-2563 to speak with an order specialist.