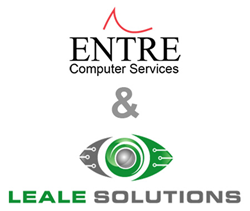 "This partnership provides our customers with top-to-bottom SharePoint solutions." -Andre Godfrey, Entre Computer Services CEO
Rochester, NY (PRWEB) April 17, 2014
Entre Computer Services of Rochester, New York and Leale Solutions of Florida have announced a strategic partnership as of April 1, 2014. Entre is a leading provider of IT Managed Services and software development services and Leale Solutions is a national company with strong advanced SharePoint solutions.
"Entre's ability to deliver configuration, project management, and SharePoint development services coupled with Leale Solutions advanced SharePoint solutions architecture, tools, migration and SharePoint bench is ideal" said Andre Godfrey, CEO of Entre Computer Services. "This partnership provides our customers with top-to-bottom SharePoint solutions from enterprise customers looking for migration expertise to our business customers looking to take advantage of SharePoint's ability to access business data and provide workflow."
Leale Solutions CEO Daniel Santamaria agreed. "Microsoft SharePoint is a 2 billion dollar business annually. We're happy that Entre has selected Leale Solutions as a trusted partner to help in the delivery of those important services".