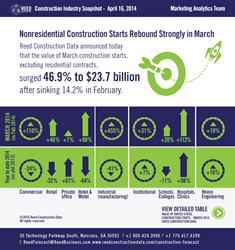 We believe the economy is on a clear upward trajectory.
Norcross, Ga. (PRWEB) April 17, 2014
Reed Construction Data reported a significant increase in the value of March construction starts, excluding residential contracts. After a 14.2% decrease in February, March starts surged to $23.7 billion – a 46.9% increase and the highest value for starts since November 2013.
Starts were up a modest 0.4% from March 2013. Year-to-date starts data, which totaled $58.6 billion, were down 2.9% from the same period in 2013. March starts data are an indication construction is bouncing back from the harsh winter weather. Since starts data are not seasonally adjusted (NSA), caution should be used in analyzing monthly movements. Year-over-year comparisons are often used, as they remove much of the seasonal effects.
"We believe the economy is on a clear upward trajectory," stated Bernard Markstein, U.S. chief economist, Reed Construction Data. "The combination of a growing economy and low long-term interest rates will spur an increase in nonresidential building construction starts, exceeding last year's starts numbers and, as a result, construction activity."
Commercial starts doubled in March (+109.9%) after plunging 35.9% the previous month. Year-to-date, commercial starts were down 24.1% from the same period last year. To some extent, that comparison obscures the bounce back in commercial starts, since there were some unusually large starts in the first quarter of 2013. The $17.1 billion first quarter commercial starts were the second highest since 2008.
First quarter lodging (hotel and motel) starts were at their second highest level since 2009. An unusually large starts figure in March 2013 is skewing the year-to-date total for this category. Similarly, first quarter retail starts lagged behind first quarter 2013 starts, but were at their second highest level since 2008.
Industrial (manufacturing) building starts, despite a more than five times increase over an unusually low February number, were still down 41.3% on a year-to-date basis. Although the first quarter 2013 starts were on the strong side, they were not unusually so. First quarter 2014 starts were the second lowest on record since the start of the Reed data series in 2003. The hope is that this year's slow beginning is weather related and will be offset by stronger numbers in coming months.
Institutional building starts are showing strength largely due to a strong gain in hospital and clinic starts, which more than doubled in March (+111.9%). On a year-to-date basis, these starts were up 98.2% from the same period a year ago. In spite of improvements in March (+20.1%), starts for schools and colleges were down 10.8% on a year-to-date basis from last year.
Heavy engineering (non-building) starts strengthened 19.2% in March. Year-to-date, starts were up 15.7% from the same period in 2013. Road and highway starts, although off 15.0% in March, were up 9.3% on a year-to-date basis.
Surprisingly, heavy engineering starts are doing much better than nonresidential building starts. The weather appears to have adversely affected the latter more than the former. As the weather improves, starts of both should also improve.
To view the complete report, click here.
The value of construction starts each month is summarized from the Reed database of all active construction projects in the U.S., excluding residential construction. Missing project values are estimated with RSMeans building cost models.
A start is determined by taking the announced bid date and adding 30 days. It is then assumed the project will actually break ground within 30-60 days of the start date. Reed continues to follow the project via our network of researchers, so if the project is abandoned or rebid, the start data are subsequently updated to reflect the new information.
About Reed Construction Data
Reed Construction Data, a division of Reed Business Information and the Inaugural Strategic Partner of the AIA, is a leading North American provider of construction information. Reed provides actionable insight to construction professionals through a diverse portfolio of innovative products and services, including national, regional and local construction project data, accurate and reliable construction cost data, effective marketing solutions and dynamic market intelligence. To learn more about Reed, visit http://www.reedconstructiondata.com.