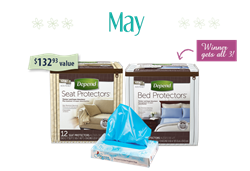 Neenah, Wis. (PRWEB) May 07, 2014
The CareGiver Partnership announces its May "Helping You Get On With Life" sweepstakes includes two new Depend products to keep seats and beds dry and a package of scented disposal bags, says Lynn Wilson, founder of the national online retailer of incontinence products and other home health care supplies.
"We're pleased to carry these brand new, premium-quality products from Depend," says Wilson. "And our Heaven Scent bags are an on-the-go essential at any age."
Depend Seat Protectors are superabsorbent, disposable pads with slip-resistant backing to keep them in place on chairs, sofas, car seats and more. With a fabric-like exterior, neutral designer print and clear poly zip bag, they offer discreet incontinence protection for home or travel. Case includes 24 pads; each measures 17.75"x17.5".
Depend Bed Protectors are superabsorbent, disposable pads generously sized for beds, sofas, oversized chairs and more. Features include quiet, slip-resistant backing and a white and blue pinstripe designer print. Case includes 16 pads; each measures 36"x20.4".
Heaven Scent premium scented bags are designed for the discreet disposal of incontinence, feminine hygiene or baby products. With a powder scent to mask unpleasant odors and an opaque design to hide contents, the bags are ideal for stashing in a purse, pocket or glove box. Package includes 50 bags.
For a chance to win this month's prize package, participants need only e-mail info(at)caregiverpartnership(dot)com or mail a short statement explaining why the prize would be useful to him or her or a loved one. The CareGiver Partnership will accept entries for this prize through May 31, 2014, and will notify the drawing winner the first week of June. To learn more about the two easy ways to enter and preview upcoming giveaways, visit The CareGiver Partnership "Helping You Get On With Life" sweepstakes page.
Visit The CareGiver Partnership to learn more about the sweepstakes, try sample products before buying, use the online Incontinence Product Finder tool, download a free fall prevention guide, and access more than 1,500 caregiver resource links and hundreds of articles.
The CareGiver Partnership is a national direct-to-consumer retailer of home healthcare products for incontinence, diabetes, nutrition support and more. In its eighth year of providing products and services that help caregivers and loved ones maintain personal dignity, the company also offers an online library of more than 1,500 family caregiver resources and personal service by experts in caregiving. Call 1-800-985-1353 or visit online at caregiverpartnership.com.