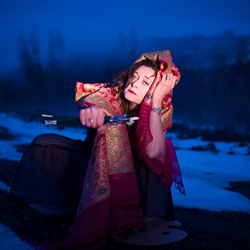 Like Mabel, Robbi is fiercely independent and authentic to herself. Firestone chose to follow her own bliss to Santa Fe [...] I sensed that they were kindred spirits.
Santa Fe, NM (PRWEB) April 28, 2014
"Awakening in Taos" producer Mark Gordon chose Seattle/Santa Fe portrait artist Robbi Firestone to inspire crowd-funding in his promotional Indiegogo video. Firestone was chosen for her intelligence, creative force, freethinking attitude, passion to inspire women, and love of New Mexico.
The documentary tells the story of creative maven and muse, Mabel Dodge Luhan. Her granddaughter said about Mabel, "She lived her life pretty much as she pleased. She did what she wanted and believed in—and the sky did not fall on her." 100 years later, Lujan's life still resonates with passionate, creative women of all ages."
In a recent interview, Gordon noted that Firestone isn't so different from Lujan. Firestone serves as an excellent role model for women. "Like Mabel," says Gordon, "Robbi is fiercely independent and authentic in herself. Firestone chose to follow her own bliss to Santa Fe...I sensed that they were kindred spirits."
Within just a few months, Firestone created a portrait series called, "The Spirit of Santa Fe," which debuted at Casweck Galleries on August 9, 2013. Firestone's passion to empower and inspire women to live more creative lives was evident when over 300 attendees arrived in two hours. National media heralded Firestone's efforts: from the San Francisco Gate to Boston Globe, Miami Herald, Houston Chronicle, Los Angeles Daily News, and more.
Evidently, New Mexico continues to serve as a creative mecca not just for artists but also for adventurous female artists invested in freedom and creative fulfillment.
Luhan (played by Ali McGraw) moved to Taos in 1919, was part of the Taos art colony, but was "born 100 years ahead of her time." Her passions included gender equality, the vanishing wilderness, living sustainably, creating inclusive communities, and building bridges between races and cultures. Firestone passionately shares these visions, committing 10% of her sales to philanthropic causes.
Firestone's mission is to inspire women to lead more creative lives. She is a motivational speaker for women across the globe, focused on unleashing freedom through creativity.
Meanwhile, Firestone's prized "Spirit Capture" oil portrait commissions, deftly reflect her subjects' inner selves, hopes, and dreams, as well as the faces they show to the world. Subjects include Michael Beckwith of bestselling book and film, "The Secret," Bart Millard of best-selling band MercyMe, and three-time Grammy winner, Keb'Mo'. She is currently working on a series called "12 Global Visionaries in 12 Months."
Learn more about Spirit Capture Oil Portrait Commissions and Robbi Firestone's work at http://www.robbifirestone.com.
"Women need role models to feel inspired and excited about living a creative life," Firestone says, "Mabel Dodge Luhan was phenomenal at following her passions."
Find out more about Awakening in Taos on Indiegogo.