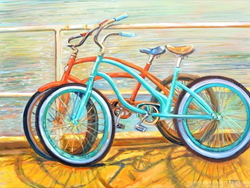 Los Angeles, CA (PRWEB) April 18, 2014
24/7 Van Lines are publicizing checklists in order to inform the community of the pitfalls that one can find when transporting art materials. Art shipping tends to involve the most fragile inventory, and so the company urges, that when improperly packed, items can become easily damaged or destroyed.
Company officials also want to stress to their own employees the need to be careful when packing art items, as many businesses invest heavily when purchasing unique works of art. Larger businesses tend to keep a certain kind of atmosphere, and because of this, claims erupting from damaged art can be the most difficult, time-consuming, and expensive kind.
Jeremy Bellows is a company packing expert, often called upon to train new hires at various district locations. He suggests that most damage that occurs during art shipping happens because people were careless. "Packing art properly takes a lot longer than it does for simpler, less fragile, and more inexpensive items. Unfortunately, cutting corners costs the company a lot of money when accidents occur. That's why we're going to such lengths to inform both customers and employees how to properly pack different kinds of items."
For instance, paintings rank among the most commonly damaged art items. Long, shallow boxes are easily damaged by larger, heavier items in transit. Packers must use thick foam inserts in order to keep the paintings firmly in place inside of boxes. In general, these more easily damaged boxes should be affixed to larger ones that are less apt to tip during transit. Movers thus have the responsibility of packing heavier boxes densely, and keeping these lighter boxes on top and out of harm's way.
Bellows, laughing, jokes about training programs that incorporate children's building blocks. "They hate it at first, but it's really only to exemplify how to pack the trucks with a fun, hands on approach. We show them videos, we have them role play with the blocks, and eventually we have them train while overseen by more experienced movers. It's fun to seem them improve."
The updates can be found at 24/7 Van Lines website. Information on commercial and long distance moving procedures, including tips and various pricing packages, can also be found using the links provided on the website.