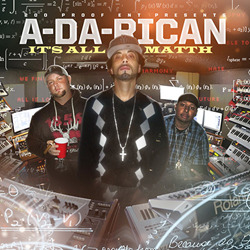 Atlanta, GA (PRWEB) April 17, 2014
Coast 2 Coast Mixtapes announce the release of the "It's All Matth" mixtape by A-Da-Rican and Matthmattix. The 23 track project is currently available for download. The mixtape features appearances from Suko Slim, The Black Pope, and LC Hillbilly.
A-Da-Rican is an emcee born in the Bronx New York to Puerto Rican parents. Always in and out of trouble A-Da-Rican credits Hip Hop music for showing him the light after living a life of pain and solitude. A-Da-Rican, who has been rocking the mic since he was 15 years old, has used music to express his feelings thus releasing his inner demons. These real life experiences and A-Da-Rican's ability to paint vivid images with his words has earned him the nickname Story Killa.
Matthmattix on the other hand is a DJ, producer, and artist born Matthew Walker in Sutherland, VA. At the age of 13 years old his mother gave him a DJ setup she found at a yard sale. Matthmattix instantly fell in love and has been DJing ever since. These years of experience rocking parties and selecting the best music has made Matthmattix a musical force to be reckoned with. After learning all the ins and out of DJing from his Uncle Pete, Matthmattix knew he wanted to do more with music and saved up his money to purchase a beat machine and keyboard. After receiving his new equipment Matthmattix found he had an unquenchable thirst for producing spending all of him time making beats and writing songs. Recently starting his own indie label with business partner Lee "LC Hillbilly" Chappell called 200 Proof Entertainment, Matthmattix now has the team and resources needed to bring his distinct sound to the national market.
A-Da-Rican and Matthmattix's latest collaboration "It's All Matth" which is presented by Coast 2 Coast Mixtapes and 200 Proof Entertainment is a testament to A-Da-Rican and Matthmattix's hard work and common goals. "It's All Matth" features heavy hitting southern style beats with a gangster street style delivery. The production on the project jumps from Matthmattix's southern club bangers to radio ready Hip Hop hits all held down by A-Da-Rican's steady flow. Give "It's All Matth" a full listen and keep up with A-Da-Rican on his Twitter page at @atherican as well as Matthmattix on his Twitter page at @matthmattix.
About Coast 2 Coast Mixtapes
Coast 2 Coast Mixtapes are the most widely distributed mixtapes in the world, with over 100 million downloads/plays generated by over 200 volumes officially hosted by major artists. Coast 2 Coast has a solid reach in the new music industry with a digital magazine, DJ coalition, industry tips blog, yearly convention, and more. Coast 2 Coast Mixtapes represents a unique opportunity for artists of all urban genres, from major to indie. For more information, visit http://www.coast2coastmixtapes.com.