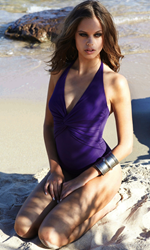 ...celebrated for constructing "the ferraris of the bikini world" by British Vogue.
Los Angeles, CA (PRWEB) April 18, 2014
Canyon Beachwear designers frequently find their pieces in the pages of world-renown fashion magazines, including the ever-popular duds from swimwear designer extraordinaire Melissa Odabash. The latest Odabash piece to be featured in a luxury fashion publication is the exquisite Zanzibar one-piece, available in red, purple and lizard print, and found in the April issue of Harper's Bazaar.
Proving that one-pieces are just as sexy as bikinis, this gorgeous option features a flattering, flirty, supportive twist around the padded bust. This creates a stunning, plunging neckline that flashes just the right amount of flesh! Ties at the neck allow for optimal comfort while the overall design provides the perfect poolside essential. The Zanzibar one-piece is an ideal swimsuit for women who want to blend sexy and chic with comfort and support.
This is hardly the first time Odabash's glamorous creations have been featured in Harper's Bazaar and similar magazines, as the designer was previously celebrated for constructing "the ferraris of the bikini world" by British Vogue. An American designer and former swimsuit model living in abroad in London, Odabash continues to be a celebrity favorite. Her meticulously-designed pieces are favorited by the likes of Kate Middleton, Beyonce, Kim Kardashian, Cindy Crawford, Gwyneth Paltrow, Kate Moss, Rihanna, Sienna Miller and more, while her iconic zebra-print bikini remains one of Victoria Secret's best-sellers. Odabash's dedication to designing fabulous swimwear for all body types includes utilizing superior fabrics and her timeless sense of style.
To place an order with the designer, please email odabashsales(at)gmail(dot)com.
About Canyon Beachwear:
Canyon Beachwear opened its first boutique in 1979 in Santa Monica, California and quickly became a staple of the fashion community thanks to its unparalleled customer service and wide selection of beautiful swimwear. Recognized in publications such as Harper's Bazaar, Women's Wear Daily, Vogue, Sports Illustrated, InStyle, Allure, Glamour and Los Angeles Magazine, Canyon Beachwear features pieces from over 50 top swimsuit designers. In addition to its online presence, Canyon Beachwear has 10 store locations in Hawaii, Las Vegas, California and New York. No matter the body type, Canyon Beachwear has a bathing suit that fits just right! After all, the company motto is "We Suit Every Body." For more information about Canyon Beachwear, visit canyonbeachwear.com or call 800-863-6681.