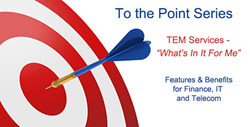 We wanted to explore the range of tasks within a TEM program, answering that age old question 'Why do I care?'
Madison, WI (PRWEB) April 17, 2014
Valicom announces the launch of their "To the Point" telecom expense management educational series. Released on their blog and as downloads on their website, the article series hopes to shed light on the various elements within a strong TEM program.
"We wanted to break down and then explore the wide range of tasks within a telecommunications management program, answering that age old question "Why do I care?" explained Valicom's Communications Manager Lacinda Athen.
"CIOs, Finance and Telecom Managers sometimes don't know what to pick when given a TEM services menu, so we wanted to tease out the benefits of the various options. So much of what we offer now is a la carte. We feel it helps to know what you gain from implementing each one, so clients can layer them effectively."
The "To the Point" series, starting today and being rolled out over the next two months, will cover a variety of telecom and mobile management tasks:

Telecom Inventory Management
Telecom Invoice Processing
Telecom Cost Allocation – GL Coding – Chargebacks
Telecom Invoice Auditing & Credit Recovery
Telecom Bill Pay
Telecom RFPs & Contract Negotiation
Wireless Optimization
Each "To the Point" article will cover why implementing the TEM tactic matters, and lay out the benefits for finance, telecom and IT managers. Common TEM packages will bundle a variety of these tactics, often around a TEM software platform, but each firm has a unique telecom situation. In addition, various divisions inside the company may want to deploy telecom expense management for different reasons. Knowing which TEM solutions to utilize, and when, can help hold down implementation costs and increase ROI.
To access the first article in the series, visit http://www.valicomcorp.com. To be notified of future releases, managers can sign up for the RSS feed or request an email alert at http://feeds.feedburner.com/Valicom.
For more information on Valicom or their telecom expense management software and solutions, please contact Lacinda Athen at (800) 467-7226 or marketing(at)valicomcorp(dot)com.
About Valicom: Valicom is a Madison, WI based telecom expense management firm founded in 1991. Valicom offers Clearview, a web-based SaaS telecom expense management software, and a full a la carte suite of voice, wireless and data management services including invoice audits, invoice processing and payment, asset management, cost allocation, procurement, wireless optimization, RFP services and contract negotiation. Valicom has a channel partner program and is a certified WBE. http://www.valicomcorp.com