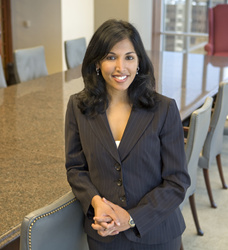 From the start of her career, Purvi has demonstrated an unparalleled talent for understanding trademark matters and client needs. She has been an integral part of the growth and strengthening of the firm's
Dallas, TX (PRWEB) April 16, 2014
Haynes and Boone, LLP Trademark Chair and Partner Purvi Patel has been designated as a Dallas Business Journal 40 Under 40 honoree, recognizing her as one of 42 innovators, deal makers and influential leaders who excel in their respective companies and industries and show dynamic leadership in their communities.
Patel was the youngest ever to be made partner in the firm's history and today successfully manages the firm's nationwide trademark practice. In this role, she counsels Fortune 500 companies and high growth ventures on the protection of their valuable brand investments, and has been consistently recognized in the legal industry for her talents. She has successfully expanded a fledgling practice and represents Fortune 10 companies as well as emerging brands.
"From the start of her career, Purvi has demonstrated an unparalleled talent for understanding trademark matters and client needs," said Terry Conner, the firm's managing partner. "She has been an integral part of the growth and strengthening of the firm's IP practice."
Her dedication to clients was exemplified when she stepped in for four months to serve as acting in-house trademark counsel for the world's largest internet retailer while its senior corporate counsel was on maternity leave. During that time she commuted to Seattle three days each week. She continues to represent the company in trademark matters today.
Patel is an active board member with the International Trademark Association (INTA), the world's largest trademark organization comprising more than 10,000 trademark practitioners from around the world, sits on the Leadership Development Committee, and is a past chair of the Young Practitioners Committee. She served as co-chair for INTA's successful 2013 convention in Dallas which provided educational and networking programs for more than 9,500 attendees from more than 140 countries.
"In her service to the community, clients and fellow peers, Purvi has proven herself to be a leader in the firm and our community," said Conner. "We congratulate her for this outstanding recognition."
Patel has been featured in various trade top practitioner lists, including Managing IP's Stars – Top 250 Women in Intellectual Property in October 2013 and the World Trademark Review (WTR) 1000, where she was included in the national and Texas rankings for prosecution and strategy. She has also been recognized as a Texas Super Lawyer multiple times and has been called one of "The Best Lawyers Under 40 in Dallas" by D Magazine. In addition, she was the sole trademark lawyer selected by Law360 as a "Rising Star" and "one of 10 IP Attorneys Under 40 to Watch."
She is also an active member of local, state and national bar associations. She has served on the steering committee of the State Bar of Texas Minority Counsel Program (TMCP) for six annual terms and is also a member of the State Bar of Texas Intellectual Property Law Section: Trademark and Legislation Committee, the National Asian Pacific American Bar Association (NAPABA), Dallas Asian American Bar Association (DAABA), and the DFW Women in IP group.
Patel is an alumnus of the Business Counsel for the Arts Leadership Arts Class of 2008, where she served on the steering committee for the class's project starting and garnering support for Marquee Circle, the young professional's group supporting the now AT&T Performing Arts Center.
In the community, she is an active member on the Big Thought Board of Directors, one of the nation's leading non-profits that helps open doors for all children to have access to quality learning opportunities. She has also served on the Dallas Symphony Orchestra (DSO) Board of Governors and participates in the DSO Board's Education Committee.
All honorees will be celebrated May 29 at the Community Beer Company in Dallas and featured in the May 30 issue of the Dallas Business Journal.
About Haynes and Boone
Haynes and Boone, LLP is an international corporate law firm with offices in Texas, New York, California, Washington, D.C., Rio de Janeiro*, Shanghai and Mexico City, providing a full spectrum of legal services. With more than 500 attorneys, Haynes and Boone is ranked among the largest law firms in the nation by The National Law Journal and has been named winner of a 2013 Thomas L. Sager diversity award by the Minority Corporate Counsel Association.

Working under a cooperation agreement with MMA in Rio de Janeiro. Available by appointment with MMA. Haynes and Boone, LLP and MMA operate as independent firms.