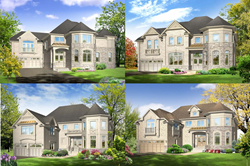 Property owners, and real estate investors constantly look for strong property managers to provide reliable service at a fair cost, LJM looks to deliver on those expectations
Burlington, Ontario (PRWEB) April 17, 2014
LJM Developments (LJM) well known for their recent successes in residential and commercial real estate developments around the Greater Toronto Area, has added 60 properties to its property management operations.
LJM has successfully managed properties for the past decade, providing excellent service and achieving a solid track-record. Mr. Liaquat Mian, CEO of LJM explains "this was proven by our ability to succor such a large addition of prime properties to our property management division". Property owners, and real estate investors constantly look for property managers who provide reliable and diligent service at a fair cost, LJM looks to deliver on those expectations.
Property management provides a promising expansion avenue for LJM to further leverage their own property holdings, and expand vertically within their expertise. Doing so with a number of projects completed and underway, the vertical integration will provide an even better foundation for future expansion aspirations.
With a portfolio of property management focused in Ontario and Quebec across multiple real estate categories including Condominiums, Town homes, Detached homes, and Commercial properties, the recent addition will add to an already growing segment of LJM's business. From single holdings to portfolios of real estate assets, LJM looks to entertain projects in property management at any size.
LJM's commitment to service and diligence in this space is based on their experience with management of their own property portfolio that includes condominiums, homes, and retail centers. The company seeks to add a diversity of real-estate assets under management across Ontario.