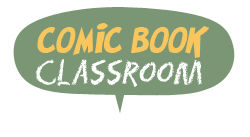 By adding on the layer of 'teaching the teachers,' the older kids are taking their sense of ownership and accomplishment and helping even more kids.
Denver (PRWEB) April 17, 2014
Comic Book Classroom (CBC), a Denver-based nonprofit designed to help promote literacy through pop culture—including its popular Denver Comic Con and Literary Conference (DCC), today announced a partnership with PlatteForum to empower teens to make an impact in younger students' education and self-awareness through comic book creation.
PlatteForum is an award-winning and innovative nonprofit arts, youth-development, and urban artist-in-residence program in Denver that teams youth (K-12) from around the Denver metropolitan area with artists in intensive, structured, and long-term creative learning environments. Fifteen youth from their ArtLab internship program work side by side with master artists, and in this case, CBC instructors, to collaboratively plan, produce, and exhibit their own comic book. The high school students will then apply what they learned in an instructor role with classes of younger children from the Colfax Community Network.
"We've found that storytelling through comic books engages students not just in the process of learning, but also helps them express themselves artistically," said Illya Kowalchuk, director of education for Comic Book Classroom. "And by adding on the layer of 'teaching the teachers,' the older kids are taking their sense of ownership and accomplishment and helping even more kids. In a sense, learning through comics and pop culture becomes viral as more and more kids impact other kids. It's really exciting to see."
The PlatteForum classes are being conducted now; the student-led classes will begin this summer.
PlatteForum student-instructors will be invited to participate in DCC's "Experience the CoMix," an interactive cultural field trip designed to provide students the opportunity to develop an appreciation for the role of pop culture in all of our lives. Students will attend panels where they will learn about things like fields of employment in pop culture and how to develop their own skills as writers, artists, and consumers of culture.
About Denver Comic Con
Entering its third year, the Denver Comic Con (DCC) is Denver's premiere pop-culture fan experience, covering the worlds of comic books, film, and related media. It is also an extension of and an awareness builder for its parent organization, Comic Book Classroom. For the latest news and information, visit http://www.denvercomiccon.com.
About Comic Book Classroom
Comic Book Classroom (CBC) is a charitable organization that educates through alternative approaches to literacy, learning, and character development. CBC creates programs for students, schools and communities via comic books, graphic novels, and related media. CBC is the organizer and producer for the DCC. http://www.comicbookclassroom.org.
###
Media Contact:
Jason Jansky, DStreet
jjansky(at)dstreetpr(dot)com
(303) 748-3300