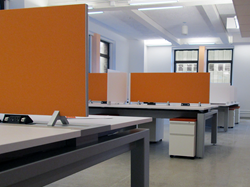 'We have already seen great success with this partnership through such projects as Pandora Radio in Midtown New York, which feature Luna Textiles prominently on Innovant's FORm_office product.'
New York, NY (PRWEB) April 22, 2014
Innovant is pleased to announce its partnership with Luna Textiles to offer six Luna patterns in its standard selection of fabrics. These finish options can be chosen for any of Innovant's textile applications, including privacy panels and cushioned products in open plan, trading, private office and conference environments.
Luna Textiles was founded in San Francisco in 1994 to introduce new style to commercial interiors. Since then, Luna's textiles and showrooms have gained numerous accolades and industry awards. Sharing Innovant's pursuit of excellence, Luna Textiles is an excellent Innovant partner due to its desire to be the best source of well-designed, elegant, and refined textiles.
For privacy panel applications, Innovant now offers Luna's Linea collection, woven of 100% recycled polyester and available in five standard colorways. Odeon's dimensional pattern is offered in twelve colorways, with Luna's faceted Radar pattern available in five tonal colors.
In addition to these panel fabrics, Innovant has standardized three dual purpose patterns, Nifty, Notion and Trapeze, which provide the flexibility of both panel and cushion applications. Nifty's bold array of colors pop on a textured fabric, while Notion's subtle sheen provides dimension. Trapeze offers simple colorways in both vibrant and neutral tones.
"We have already seen great success with this partnership through such projects as Pandora Radio in Midtown New York, which feature Luna Textiles prominently on Innovant's FORm_office product." – Deborah Herr, Marketing Designer at Innovant
Anything outside of Innovant's standard Luna Textiles range must be tested and could potentially require longer lead times and higher cost due to backing requirements. This includes Luna fabrics from Odeon, Linea and Radar that fall outside of Innovant's published standard.
Innovant will promote this partnership at NeoCon 2014 in Chicago with Luna Textiles' Nifty fabric incorporated into its exhibition product.
For more information about Innovant or its material and finishing options, please visit http://www.innovant.com. Register now to receive Innovant's latest product updates and company news.
About Innovant: Innovant is a renowned industry leader creating intelligent, adaptable furniture for the modern workplace. With a flagship showroom located in New York, Innovant maintains a worldwide network of offices and showrooms spanning North America, Europe and Asia. Innovant's substantial contributions to office and trading floor environments not only stem from its superior products, but also from the close collaboration Innovant supplies to clients, their architects and designers.