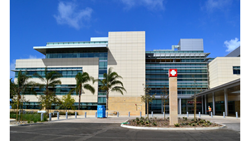 "A.O. Reed & Company is thrilled to be part of this national award winning team of contractors and incredibly humbled to be part of a project that provides for our troops and their families," expressed by David Clarkin, EVP.
San Diego, CA (PRWEB) April 17, 2014
Prior to the bid and ultimate award of the naval hospital at Marine Corps Base Camp Pendleton, joint venture general contractor Clark/McCarthy selected our mechanical team. We provided a design build delivery method for the HVAC and plumbing systems that was complete 6 months ahead of schedule and under the Navy's original budget.
Situated on 70 acre site near the south end of Camp Pendleton, the hospital provides emergency, primary, intensive and specialty care to our troops and their families. The facility has 96 outpatient procedure rooms, 205 exam rooms, ancillary departments, support spaces and 54 patient rooms accommodating up to 60 beds for non-ambulatory patients who require stays in excess of 24 hours.
The AGC Alliant Build America Awards highlight the nation's most significant construction projects. The panel of judges represented all areas of construction; they evaluated the nominated project's complexity, use of innovation construction techniques and client satisfaction among other criteria. The award winners were announced during the association's annual convention in Las Vegas and are considered by many to be the most prestigious recognition of construction accomplishments in the United States.
The AGC Build America Marvin M. Black Excellence in partnering award is presented annually to construction projects that epitomize the principles of partnering. Inspired by the AGC's past President Marvin M. Black, the inclusion of partnering in the Build America Awards represents a timely and unified celebration of the construction industry's finest.