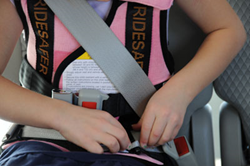 (PRWEB) April 17, 2014
Ride Safer® Travel Vest 2 presents an easy and informative video about the application and use of the Travel Vest.
Ride Safer® makers of the Safe Ride Travel Vest announce the ease of use and proper installation of the Travel Vest 2 to be used with older toddlers.
The Ride Safer 2 Travel Vest headrest may be removed and, depending on which side of the vehicle the child will be seated, the shoulder strap seat belt clips can be moved to either side of the vest. The harness built into the vest offers front panels that protect the child with the cross strap of the seat belt in the event of a crash. The travel vest can be adjusted with easy Velcro and clips to protect intermediate toddlers of just about any size.
In addition to the vest, the Ride Safer® alternative to car seats come complete with a crotch strap and seat belt strap, which is supported over the back seat of the vehicle. Once assembled, the Ride Safer® Travel Vest doesn't need to be assembled other then being applied to the child.
Ride Safer® offers alternatives to bulky car seats with a safe, effective, and US Federal Government approved Travel Vest that follows the child, creating more room in the vehicle and a safer ride.