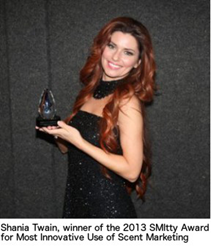 We are looking for outstanding marketing and branding efforts that utilize smell, sound, touch, taste and sight in integrated, innovative and effective ways.
New York, NY (PRWEB) April 17, 2014
ScentWorld Events, LLC is now accepting nominations for the prestigious SMItty awards, given to companies that have demonstrated excellence in scent and sensory marketing in the previous year. The winners will be announced at a gala awards lunch during its global scent and sensory marketing event, ScentWorld 2014, June 12-13, 2014 in New York City.
There are four different categories:
Harald Vogt Scent Marketer of the Year – Named after the late founder of the ScentWorld event and industry leader, Harald Vogt, this award honors the scent marketing company that has done the most to promote the scent marketing industry in the previous year, either through highly visible scent marketing projects or through communication and advocacy.
Best Sensory Marketing Campaign - This award is designated for the advertising, marketing or branding agency that has created the most creative and effective marketing campaign strategically using two or more of the senses.
Most Innovative Use of Scent Marketing - This award will go to the brand owner who has implemented an outstanding use of scent, in a way that is new and unexpected.
Scent Technology Innovation Award - This award will be presented to the company that has created and marketed the most innovative new scent technology equipment, product or process.
Last year's SMItty award winners include Shania Twain, who won the Most Innovative Use of Scent Marketing award for her use of multiple scents during live concert performances of her "Still the One" tour, ScentAir, winner of the Harald Vogt Scent Marketer of the Year for their "City of Dreams Rainforest" scent installation at Macau's world-class lodging, dining and entertainment complex, Nose Knows Design, winner of Best Sensory Marketing Campaign for the YSmell Project, a contest where students were challenged to design retail spaces using scent as an inspiration, and Scentandrea, winner of the Scent Technology Innovation award for its Scent Halo™ light, a point of sale device that projects a logo and emits a signature scent for multi-sensory retail branding.
ScentWorld Events is accepting nominations via a form on its website at http://scentworldevents.com/smitty_nomination. The deadline for nominations is April 30, 2014.
About ScentWorld, LLC: ScentWorld is the preeminent global scent and sensory marketing conference. It features two days brimming with networking and cutting edge presentations and workshops, helping professionals to creatively build their businesses with profitable ideas. Attendees hear from leading minds in scent and sensory market research, technology and trends, and applications, with inspiration from dynamic exhibitions featuring the top global companies. For more information on ScentWorld, visit http://www.scentworldevents.com.