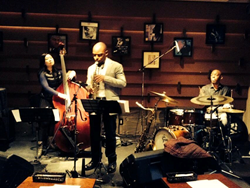 I was surprised to see we have a very strong following in Japan.
New York, New York (PRWEB) April 19, 2014
The Marcus Strickland Trio completed a very successful tour in Japan from April 4, 2014 - April 12, 2014. The trio included Marcus Strickland on saxophones, EJ Strickland on drums, and Linda Oh on acoustic bass. Why Japan? Because fans in Japan absolutely love the jazz genre and are excited about Strickland's music.
With the month of April being Jazz Appreciation Month, the Strickland brothers hit the jackpot by selecting Japan as the location for their April tour. It is the custom of Japanese fans to give gifts to the musicians after the concert to show their appreciation. "Our fans in Japan have been eagerly waiting for us to do a tour here for quite a while," says EJ Strickland. "All of the venues were well attended and often filled to capacity." The Pit Inn, in Tokyo, Japan, sold out on the first day the tickets were released. "I was surprised to see we have a very strong following in Japan," said Marcus Strickland. "Over the years I have made five or six trips to Japan, but this was the first trip I made with my own band. I have very grateful and loyal fans there. It was a very special opportunity for me to tour as a leader."
Jazz music is appreciated all over the world, all year round; and this appreciation is evidenced by the fact that Jazz clubs in New York city are frequently listed on tourist Must Visit list. The tour took the group to Tokyo, Japan and surrounding areas for a total of seven events. It included two concert halls and five jazz clubs. Cities on the tour included Tokyo, Musashino, Osaka City, and Shizuoka.
"We will definitely tour again if the opportunity presents itself. I had the most exotic sushi I have ever tasted and enjoyed the beautiful gardens in Japan," said Marcus Strickland.
Strick Muzik is an independent record label based in Brooklyn, NY USA, formed in 2006 by Marcus Strickland. It was formed as an outlet for Marcus Stricklands' own productions years after releasing two albums on the Fresh Sounds New Talent label. "At Last" was released in 2001 followed by Brotherhood in 2003(1). In 2006, he independently released Twi-Life, an adventurous double-album on his own label, Strick Muzik. The album received critical praise and proclaimed him "Best New Artist" in Jazz Times Readers' Poll. In 2007, the Twi-Life group released a live album entitled "Open Reel Deck" on Strick Muzik(1). He was voted "Rising Star, Soprano Saxophone" in Downbeat Magazine's 2008 Critic's Poll. Strickland released two albums 2009 – "Of Song" on the Criss Cross Label and "Idiosyncrasies" on Strick Muzik (1). Later, Strick Muzik was expanded to be the home for releases by his twin brother, EJ Strickland, also a jazz music artist, whose debut album "In This Day" released in 2009.
References:
1. Artist Biography by Vincent Thomas
2. Ken Micallef, Downbeat Magazine