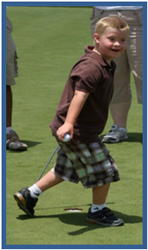 Dallas, TX (PRWEB) April 18, 2014
Brink's North America President Mel Parker was all smiles when a teammate sunk a 52 foot putt April 10 at Bridlewood Golf Club in Flower Mound, TX, giving the team an early lead in the Research Down Syndrome golf tournament Brink's was hosting. While his team did not go on to win, the medical charity event surely did. "Brink's is honored to be presenting this event to help medically improve the lives of people in the communities we serve," said Parker. Brink's technology and operations team members were the backbone of organizing and running the activities.
Powered by the Brink's brand of security and financial services, the event raised nearly $110,000 for Down syndrome and Alzheimer disease medical research at leading university labs. The funds will support the ongoing development of medications to improve memory and learning for people with these conditions. Over $400,000 has been raised at four prior events in DFW, helping bring three new medications into the FDA approval process. Supporting this type of event was a natural fit for Brink's, as it provides logistics services to the pharmaceutical industry.
More than 30 Brink's business partners and their employees participated in the tournament and dinner. "It is exciting to see Brink's employees, customers, and vendors take such an active charity role to benefit so many people. Over 35 Brink's employees served as volunteers and managed sponsor relationships to make this event a huge success for this important medical research," added Paul Watson, Research Down Syndrome Ambassador. The charity golf event will return to DFW in April 2015.