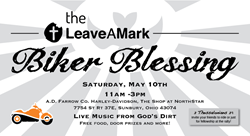 (PRWEB) April 30, 2014
A.D. Farrow Co. Harley-Davidson has teamed up with Leave A Mark Church to host the annual Biker Blessing on May 10th from 11 a.m. to 3 p.m. at the Shop at NorthStar. The event will consist of free food, door prizes, vendors, and much more. The Church and A.D. Farrow Co. are encouraging riders from all of central Ohio to take part in the blessing.
The circumstances around the founding of Leave A Mark Church by Pastor Steve Combs are quite unique. Steve was first called to start Leave A Mark in a bar. The Pastor was previously with Grove City Nazarene and was out recruiting for their Biker Blessing, which had grown from 30 bikes to 2000, in just a few years. Steve noticed a large gathering of bikes at Ernie's bar in Grove City and stopped in to invite them to the Blessing. A few weeks after the Blessing, Ernie was at his bar when a young girl came in to celebrate her 21st birthday. She saw the bikes outside and stated, "I have never been on a Harley." Ernie was eager to help the girl celebrate, exclaiming, "Well let's go, mine is right out front!" Tragically just two blocks from the bar they were rear ended by a drunk driver, both of them were killed.
Steve presided over the funeral service and was incredibly impressed at the number of bikers that showed up to pay their respects. A while-later Steve rode passed Ernie's and noticed a more than usual amount of bikes at the business. He pulled in to see what was transpiring. To Steve's surprise he saw two bikers doing burnouts on the dance floor and had to inquire as to the purpose. Becky, Ernie's sister, explained to Steve that they were breaking in a new dance floor and she welcomed Steve to take part in the celebration to honor her brother. Steve was thrilled to be a part of the celebration of Ernie's life and left, "about twenty dollars of his back tire on the dance floor." The three selected burnout contributors were asked to sign their names on the dance floor. Steve simply wrote, "John 3:16 the greatest mark ever left."
As Steve left that day he felt a prompting from God to start a Church, and he already had a name in mind, Leave A Mark. This was the beginning of the church that is now located at 4818 Parsons Ave. in Columbus, OH. The church offers a biker ministry, a food pantry, and celebrates recovery for those addicted. The Prison Ministry and the Homeless Ministry both serve central Ohio. For more information on services and locations, click here.
"Come as you are, no perfect people allowed."