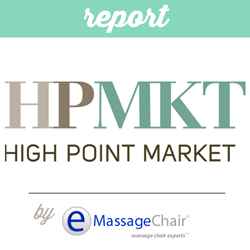 All of the massage chair and relaxation booths are a welcome site to attendees who spend a lot of the day walking and talking with vendors.
Las Vegas, NV (PRWEB) April 17, 2014
High Point Market had another amazing Spring 2014 show. What has become the Mecca for all things home just set more milestones as attendees came from all over the US and some Internationally to showcase their new lines in furniture, interior design, and talk about the in-home style trends. Located in High Point North Carolina their 180 buildings has 11.5 million square feet of show space 2000 exhibitors and 75,000 attendees annually. It's not surprising to think about all the excitement going on at High Point since this event is talked about year round and some of the most well known brands in furniture are always excited to show of their new stuff.
Some of the newest technology upgrades have come in massage chairs since they've become more advanced in recent years. One of the more well known brands, Inada was there to help attendees relax and take some time off during the week long event. Some newer brands like Johnson Wellness were also there to talk about their new Johnson chairs which were released last fall. Check out the Johnson Wellness massage chair press release to learn more.
Cozzia and Osaki also had their new products out and were helping people learn about the new features and technology while getting a great massage. Cozzia has been exploring Zero Gravity recliners and showcasing them at recent shows. Cozzia also mentioned they are in the works to release one of the best Zero Gravity recliners in the coming months. Osaki was showcasing their new OS-3D Pro Dreamer, OS-3D Pro Cyber, and their new OS-4000t. Check out all the Osaki Pro Series massage chairs.
Human Touch was also there to talk about their widely popular Perfect Chair, and teach people about all the great benefits of living a healthy life.
There were also other relaxation and health related products, like relaxation recliners, relaxation beds, and furniture designed to help ease the body during leisure.
All of the massage chair and relaxation booths are a welcome site to attendees who spend a lot of the day walking and talking with vendors. It's a really exciting experience for anyone in the Furniture Industry and many are excited to see a lot more young faces. Mike Root from Furniture Today wrote a blog post that even though furniture is more traditional it's nice to see younger people showing interest, mainly because they are going to be the consumers who are buying all these product for the next several decades. He mentions "This is very smart since that is the generation destined to spend the most for furniture in years ahead."
It's not all furniture talk either; High Point also keeps their Market exciting by giving attendees a free concert. This year Daughtry played and market goers enjoyed good music, free drinks, and free food.
High Point Market is based in High Point North Carolina. To learn more about High Point Market, you can visit http://www.highpointmarket.org.
For any readers interested in learning more about the massage chair brands mentioned they can call the Massage Chair Experts™ at 888-360-9996 or by visiting https://www.emassagechair.com/.