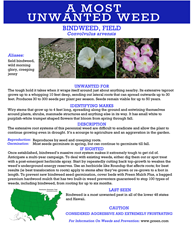 Weed seeds can stay viable in the soil for years, even decades, lying in wait for a flash of sunlight to spark them to life.
Lebanon, PA (PRWEB) April 17, 2014
An otherwise pretty garden choked by weeds is a crime. Now, a new website aims to help home gardeners identify and arrest some of the most unwanted weeds in the garden. MostUnwantedWeeds.com features FBI-style Unwanted Posters with profiles of pernicious weeds, the types that annually churn out massive quantities of weed-renewing seeds. Many of those seeds stay viable in the soil for years, even decades, lying in wait for a flash of sunlight to spark them to life.
The underground stockpile is called a "seed bank." In a typical home garden, the numbers can be staggering, with millions of potential weeds stored away in the soil as dormant seeds waiting to grow.
The Most Unwanted Weeds posters are modeled after the FBI's classic "Most Wanted" campaigns. Each poster features weed mug shots, descriptions, identifying marks, and weed control tips for home gardeners. The posters are available in high resolution for printing and in lower resolution for use on the Web or in presentations. All are copyright-free for editorial, personal and educational uses and are available for download at http://www.mostunwantedweeds.com.
The site and posters were created by the weed experts at Preen, makers of pre-emergent weed prevention products that stop garden weeds from growing for up to three to six months per application.
The Most Unwanted series profiles such garden weeds as:

Bindweed (Convolvulus arvensis) - Bindweed twines itself around anything nearby. Its taproot can grow 10 feet deep, with lateral roots that can spread out 30 feet. It produces 30 to 300 seeds per plant per season. Seeds are viable in the soil for up to 50 years;
Crabgrass, hairy (Digitaria sanguinalis) – Aggressive and difficult to eradicate, crabgrass spreads by seeds and also by stem nodes that can root and produce new stems wherever a stem touches soil. It thrives in hot moist conditions. Yet drought hardly fazes it. It produces up to 150,000 seeds per plant per season, viable for three years;
And Dandelion (Taraxacum officinale) – Its taproot is difficult to pull and its plumed seeds ride the wind. Classic dandelion puffballs each deliver 50 to 170 seeds, which can stay aloft on a four-mph breeze. One plant yields up to 15,000 seeds per season. Just one acre infested with dandelions can launch more than 240 million airborne seeds per year, viable for up to five years.
Other "Most Unwanted" weeds include Chickweed, Lambsquarters, Pigweed, Plantain, Purslane, Spotted Spurge, and Woodsorrel.