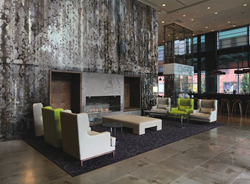 Minneapolis, MN (PRWEB) April 23, 2014
AREA challenges you to think outside the frame by seeing fine art in a new way. Working with original artwork, AREA takes it one step further and produces absolutely stunning large format murals and wallcoverings. AREA believes in the transformative power of art to create aesthetic spaces. Their in house production allows for custom collaboration and quick turn around on projects.
Some of the artists featured in AREA's collection include: Thomas Darnell, NANUK Design, Niki Hare, Madeline Burton, and Eric Blum.
AREA will be at the ICFF show in New York displaying a full-scale wallcovering by Eric Blum. Bringing together designers from all over the world, ICFF is America's platform for global design. The show runs from May 17-20. AREA is booth #1044.