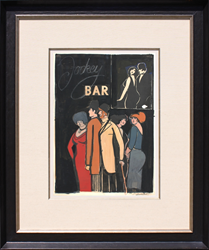 Palm Desert, CA (PRWEB) April 18, 2014
He lived through World War I and its poignant and personal consequences. He mingled amongst the party life of 1920s red light district Paris. He mocked the Nazis as a young Bert Brecht Theater graphic designer with his poster for The Threepenny Opera in 1930s Munich. Then was subsequently arrested by Hitler and sent to Dachau as a cultural revolutionary in 1933. By the time he made it out, escaping to Palestine to witness the founding of Israel, Jewish artist David Schneuer had experienced enough to inspire a rich body of artwork. After decades of hardship, his art was discovered in 1960 when he became world renowned for his prints of social life in France prior to his darkest hours. Since then, his work has been shown in numerous museums throughout Europe and the United States, becoming quite valuable and exceedingly rare.
Today, 25 years after the artist's passing, the artist has received an extensive retrospective at California's Christian Hohmann Fine Art. In collaboration with several private collections and the Estate of David Schneuer, Christian Hohmann has curated the largest exhibition of originals ever shown in a commercial gallery in the United States. In conjunction with the show, a catalog with more than 60 originals and several fine prints has been published. The exhibition will be on display until the end of May and the catalog is available for purchase for $30.
For more information, please visit http://www.christianhohmann.com or call (760) 346-4243.
Hohmann Fine Art is a California based gallery that was founded in Germany in the 1970s. Christian Hohmann is a second generation art dealer who has curated numerous exhibitions with works by Marc Chagall, Joan Miro, Francis Bacon, Paul Wunderlich, David Schneuer and many more. The gallery features a mix of Modern Masters and European as well as American Contemporary artists and regularly publishes catalogs and participates at art fairs.