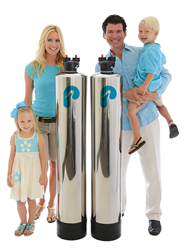 More families are moving to salt-free systems provided by Pelican Water
Deland, Florida (PRWEB) April 17, 2014
An independent report sponsored by Pelican Water, the market leader in salt-free water softening systems, forecasts a 20 percent growth in the U.S. market for salt-free water softeners and filtration over the next three years, compared to single-digit growth for other point of entry (POE) filtration options.
The study cites several reasons for this move away from traditional salt-based filtration systems including growing environmental consciousness, a preference for energy efficiency, lower cost of ownership, and favorable legislation. In light of these facts, it's not difficult to understand why this deep shift in consumer preference has begun. It will ultimately impact not just POE filtration but also point of use (POU) filtration for drinking water, another market in which Pelican Water innovates at the cutting edge, poised to reap major benefits due to estimated growth over the same three years.
"Consumers are now understanding the benefits of this environmentally friendly technology and are seeing that the technology really works in their homes providing safer, healthier water at a lower initial and lifetime cost of ownership than traditional salt based softeners," said Pelican Director of New Product Development Robert Prentice.
This shift is even more relevant in light of healthy overall growth in the market for water softeners. An independent report by RNR Market Research forecasts the demand for water treatment in the United States to grow by roughly six percent per year for the next three years, reaching a total market value of $13.0 billion in 2017. Individuals have a number of incentives to value sanitary and safer water filtration at their homes more highly, according to the study. Verified, effective salt-free water softeners, like Pelican Water Systems' NaturSoft Salt-Free Water Softener & Conditioner, have become more popular among consumers. The Natursoft salt-free media is a granular media that prevents the formation of hard water scale in pipes, appliances, water heaters, and heating elements by removing dissolved calcium from solution and forming solid calcium crystals, eliminating scale.
About Pelican Water Systems
PelicanWater.com is the official, factory-direct retail website for Pelican Water Systems, providing professional knowledge and leading technologies in whole house water filtration, as well as salt-free water softening and conditioning systems. Pelican Water products use cutting edge technology and enable customers to go green by eliminating wasteful and harmful salt brine discharge that is polluting our scarce fresh water supply. For over two decades, Pelican Water has been the global market leader in salt-free water softening systems, and our mission remains to be the world's premier water solutions company through the development of premium, innovative, and environmentally responsible products and our unsurpassed commitment to integrity, passion, and exceptional customer service.
For more information about Pelican Water Systems visit PelicanWater.com.