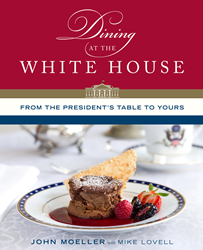 Lancaster, PA (PRWEB) April 23, 2014
Dining at the White House, by former White House Chef John Moeller, is one of 12 cookbooks that were recognized as "groundbreaking" by the magazine's 16th Annual Book of the Year Awards.
The book gives an insider's view of dining at the White House as Chef John Moeller describes his most memorable moments cooking for three First Families, for world leaders like Tony Blair and Nelson Mandela, and for famous guests like Julia Child and Sophia Loren. It includes over 100 recipes for one-of-a-kind dishes featuring his trademark use of fresh, seasonal ingredients inspired by his classical French training with an American twist. Useful chef notes help adapt fine French cooking techniques for the home cook.
Mike Lovell, Publisher-LifeReloaded Specialty Publishing, said "We are honored to have one of our titles recognized. We take great pride in the quality of our work. We worked with Chef John Moeller for three and a half years before the book was ready to go to press. A world-class chef must be represented by a world-class book."
A panel of over 100 librarians and booksellers will determine the winners of these prestigious awards. Winners will be recognized at the American Library Association Annual Conference in Las Vegas on Friday, June 27. See the complete list of finalists at Foreword Reviews.
Chef John Moeller is a member of an elite corps of chefs who have served in the White House preparing exquisitely plated cuisine for Presidents, First Families, and their guests, including visiting Heads of State. Chef to three First Families—President H.W. Bush, President William Jefferson Clinton, and President George W. Bush, Chef Moeller joined the White House kitchen in 1992 as sous chef to Pierre Chambrin and later Walter Scheib, eventually acting as White House Chef in 2005. Over the course of his career in the White House, he focused on creating unique and one-of-a-kind dishes that relied on fresh and flavorful ingredients.
LifeReloaded Specialty Publishing is a national award-winning publisher of print and e-books that specializes in working collaboratively with authors across a range of genres to develop and publish their books.
Visit: Dining at the White House
High resolution photographs of the author, book and recipes, and interviews are all available upon request. Recipes may be excerpted in whole or part with link and attribution please. Special feature story articles, interviews, and in-studio cooking demonstration inquiries welcomed and appreciated.