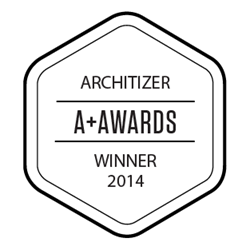 We are thrilled to receive an Architizer A+ Award and the vote of confidence from the global architecture community that it represents.
Columbia, MD (PRWEB) April 17, 2014
Nemetschek Vectorworks, Inc. announces that its architectural design software, Vectorworks® Architect, received the Popular Choice Award in the 2014 Architizer A+ Awards' Products +Apps category. Earning such recognition through a popular vote validates the Vectorworks program as a preferred solution by the design community.
Now in its second year, The Architizer A+ Awards are the definitive global architectural award program with 60+ categories. More than 200 judges select category winners and nominate five finalists within each award category. Those nominees are presented online, where design enthusiasts around the globe vote for their favorites. Winners like Vectorworks Architect software are honored alongside projects chosen by the jury.
"We are thrilled to receive an Architizer A+ Award and the vote of confidence from the global architecture community that it represents," said Jeremy Powell, director of product marketing at Nemetschek Vectorworks. "Our loyal, renowned and award-winning customers repeatedly tell us how much they rely on Vectorworks Architect's robust, all-in-one capabilities to work efficiently, accurately and win more business. Having them validate those sentiments with their votes is gratifying and illustrates that the design community values the creative freedom that Vectorworks provides."
Vectorworks Architect software allows users to maintain creative freedom while making it easy for everyone involved in the project to efficiently work together. It contains robust BIM functionality, great documentation and intelligent tools, along with the flexibility to design in 2D or 3D without restrictions. The program's powerful Parasolid® 3D modeling engine tackles complex models. Plus, BIM capabilities help streamline costs, analyze materials and increase energy efficiency while staying true to your design concept. Visit http://www.vectorworks.net/architect/ to learn more about Vectorworks Architect software.
Several other category winners were chosen by a jury panel, which included such industry luminaries as Charles Renfro, Bjarke Ingels and Tom Kundig, as well as people outside architecture like Tony Hsieh (CEO, Zappos), Yves Behar (Fuseproject), John Edelman (CEO, Design Within Reach), Cameron Sinclair (Architecture for Humanity) and Barry Bergdoll (MoMA).
Visit http://awards.architizer.com/winners/list/?id=3 to see the full list of winners.
About Nemetschek Vectorworks, Inc.
Nemetschek Vectorworks, Inc. is the developer of Vectorworks software, a line of industry-specific CAD and BIM solutions that allow designers to easily capture, develop and communicate their ideas with accuracy and efficiency. With more than 450,000 users around the world, Vectorworks software is a global leader in 3D design technologies for the AEC, landscape, and entertainment industries. Nemetschek Vectorworks was founded in 1985 and has been a part of The Nemetschek Group since its acquisition in 2000. For more information, visit http://www.vectorworks.net.