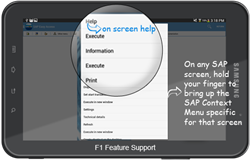 "By offering iOS and now Android support, BYOD policies enable workers to use their preferred technology providing familiarity which drives overall efficiencies."
Foster City, CA (PRWEB) June 04, 2014
The ability to respond to requests in real time increases efficiency, improves data accuracy and availability, allowing managers, sales reps, field technicians, warehouse managers, etc. to make decisions quicker. Liquid UI® for Android enables your enterprise workforce to access SAP ERP from your tablet or smartphone, with native SAP screens, or repurposed end-to-end business processes specific for your business.
"Arming your sales force, field service delivery and repair technicians, or warehouse managers with our mobile version of SAP GUI provides a direct link to higher productivity, better master data quality and improvements to the bottom line," said Thomas Ewe, CEO Synactive. "By offering iOS and now Android support, BYOD policies enable workers to use their preferred technology providing familiarity which drives overall efficiencies."
In addition to out of box experience for SAP modules such as MM, PM, WM, SD and Basis, Synactive also announces the availability of pre-built apps developed on the Liquid UI Platform deployable in as little as a day. Apps available are:

PR Approvals
PO Approvals
Material Sales Analysis
Asset Look Up
Stock Overview
Customer Sales Analysis
Goods Receipt – PO
Basis Apps
Expense Approvals
Production Receiving
Cycle/Inventory Count
Any modifications to these pre-built apps can be done easily through scripting in WS Rapid Development Framework, or deployed to any other touch-points, including HTML5-based browsers or SAP GUI.
Features:

Liquid UI's patented connectivity technology for highly optimized and compressed native connection to SAP, extends SAP business logic to mobile devices
Direct connection to SAP supports Unicode, multi sessions, Smart Action button, toolbars and context menus and all SAP DynPros not using Trees and Grids.
Repurpose transactions to mobile devices with simple scripting based on existing SAP modules, for a simple, more efficient and effective user experience, without any ABAP or Java redevelopment effort
Optimized UI for small displays while still supporting all essential SAP GUI features such as F4, toolbars, menus
Low footprint with no SAP Mobile Platform or web browser required provides fast response times and speed with near-SAP GUI performance
SAP Workflow integration with your device's email client
Re-use developed scripts to extend repurposed transactions to other touch points (iOS, scan guns, HTML5-based browsers, and SAP GUI).
"After the success of Liquid UI for iOS last year, users were demanding the same features for Androids," said DeeDee Kato, Senior Director of Marketing, Synactive. "We are now pleased to announce the long-awaited app for Android users to manage core business processes and data from every stage of business."
To download the native Android app visit:
https://play.google.com/store/apps/details?id=com.guixt.liquidui.android
About Liquid UI Software
Liquid UI is a unified UI platform that enables users to work seamlessly across all touchpoints whether they are using SAP GUI, SharePoint, SAP NetWeaver® Business Client software, HTML5 Web browsers, PDF documents, Excel spreadsheets, mobile devices such as smartphones, tablets, RFID tag readers, barcode scanguns or offline devices. With patented connectivity technology, Liquid UI software provides quick access to SAP software by supporting transactions on mobile devices, or with Synactive´s screen-combine technology, an efficient user experience with SAP applications.
"SAP at your fingertips with Liquid UI, the Unified UI Strategy for your Enterprise".
All other product and service names mentioned are the trademarks of their respective companies.