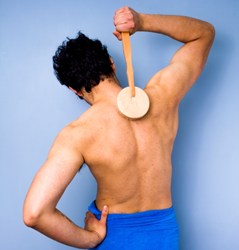 "Almost everyone who tries dry Skin Brushing falls in love with it," says Kathy Heshelow, founder of Sublime Beauty®.
St. Petersburg, FL (PRWEB) April 18, 2014
Skin Brushing is simple and effective, and can increase well-being. Sublime Beauty® explains.
"The simple act of dry brushing your body skin in specific motions towards the heart accomplishes a number of things, all great for health," says Kathy Heshelow, founder of Sublime Beauty®.
These include:

Clearing our body's largest organ (the skin) of toxins and dead cells for optimal functioning.
Boosting blood circulation to deliver important nutrients throughout the body.
Moving the lymphatic system, which has no pump, which in turn assists the immune system.
Helping to diminish cellulite.
Keeping ingrown hairs away.
Boosting mood by releasing endorphins.
To skin brush, follow these four easy steps:
1) Using natural bristles only, brush on absolutely dry skin, typically before the morning shower (stand in the shower so dead cells will be washed away)
2) Start at the feet and move up the body, brushing towards the heart. Brush everything except the face.
3) Use short to medium strokes that are not too soft nor so hard it would ever hurt. (It feels invigorating.) Spend a little extra time where lymph nodes are (inner thighs, armpits) and on dry areas like heels and elbows.
4) Don't share your brush with others, and brush daily.
Sublime Beauty® has a website devoted to Skin Brushing (at Skin-Brushing.com), and offers three brushes: the perfect daily skin brush in pouch, a long-handled brush with dual head for cellulite massage, and the new Face Brushes with specific instructions, all with free shipping.
All Sublime Beauty® products are also available on Amazon.