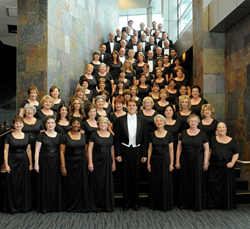 At 75 voices strong, our group has never sounded better and the music for this concert series is exciting, beautiful and absolutely entertaining!
Rocklin, CA (PRWEB) April 18, 2014
Experience the sights and sounds of cities around the globe without ever leaving home. Take this musical journey at a professional-quality, immensely entertaining concert packed with famous big-city tunes. Featured are choral highlights from the award-winning musicals "West Side Story" and "Chicago." Also in this two-hour performance, you'll be treated to "April in Paris," Manhattan Transfer's "Boy From New York," Paul Simon's "Sound of Silence," "Theme from New York, New York" made famous by Frank Sinatra, pieces sung in Italian, Spanish and Latin, plus much more! From spicy salsa rhythms to cool jazz, this concert showcases the energy, romance and vibrancy of urban life – a grand tour not to be missed!
For more information about the Placer Pops Chorale, access http://www.placerpops.org or call 916-434-6156. Dates, times and prices are listed below:
Saturday, May 3 at 2:00
Sunday, May 4 at 2:00
Dietrich Theatre, Sierra College
5000 Rocklin Road
Rocklin, CA
Tickets are available online at http://www.placerpops.org or by calling 800-838-3006. Prices: $17.50-$32.50.
Friday, May 30 at 7:30
Harris Center/Three Stages at Folsom Lake College
10 College Parkway
Folsom, CA
Tickets are available online at http://www.harriscenter.net or by calling 916-608-6888. Prices: $20-$35.
About Placer Pops Chorale:
The Placer Pops Chorale, led by Artistic/Musical Director Lorin Miller, is an auditioned choral group of 75 singers that performs with its own orchestra. The Chorale puts on two major concert series each year, in May and in December, along with special appearances and benefit performances, including the annual, free "A Gift of the Heart" Homeland concert celebrating the 4th of July.
Taken largely from the American tradition, the Chorale's music represents a variety of styles, with a strong emphasis on the popular music of the last 75 years, including the best of Broadway and Hollywood. The group is diverse in nature, and has participants of all ages. Under the inspired leadership of Director Miller, the reputation of the Chorale has soared in recent years, attracting talented singers to the group, and drawing music lovers to its dynamic concerts - often sold out weeks in advance.
Sierra College serves 3200 square miles of Northern CA with campuses in Roseville, Rocklin, Grass Valley, and Truckee. With approximately 125 degree and certificate programs, Sierra College is ranked first in Northern California (Sacramento north) for transfers to four year Universities, offers career/technical training, and classes for upgrading job skills. Sierra graduates can be found in businesses and industries throughout the region.