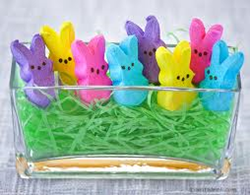 Upland, California (PRWEB) April 17, 2014
We know how stressful label reading is, and with all the hectic prep for holidays it is hard to watch what goes into your child's mouth every second. It can take one piece of Easter candy to ruin the holidays and your health. This is why this list will help you make this Easter holiday one less thing to worry about. Your child can enjoy the fun of Easter egg hunting, and eating everything in their Easter baskets this season. Here is the list of gluten-free candy for Easter in 2014:
Peeps

Large white peeps marshmallow bunny
Chocolate mousse flavored peep bunnies
Yellow peep chicks
Mike and Ike- lemonade blends
Mike and Ike- Zours
Bunnies- blue, pink, yellow, green, orange and lavender
Mike and Ike- berry blast
Mike and Ike- original
Cadbury

Buttons Chicks
Egg heads
Mini Caramel eggs
Easter Egg Trail Pack
Mini Crème Eggs
Mini Eggs
Caramel Eggs
Caramel Bunny
Mini Daim Eggs
Mini Eggs
Crème Egg
*Look for the Cadbury products labeled "gluten-absent" these products are considered gluten-free however, they warn for potential cross contamination.
Tootsie

Dubble Bubble –bubble gum
Dubble Bubble- egg shaped gum balls
Dubble Bubble- speckled Chick Eggs
Dots
Cry Babies
Charms flat pops
Charms Blow pops
Charleston Chews
Cella's Cherries
Caramel apple Pops
Fluffy Stuff Cotton Candy
Frooties
Razzles
Sugar Daddy
Sugar Babies
Nik-L-Nip Wax Bottles
Palmer Candy

Chocolate Carmel Peanut Clusters
Caramel Bites
Chocolate Covered Caramels
Chocolate Covered peanuts
Chocolate Stars
Dove

Chocolate Easter Bunnies
Dove Egg-shaped Candies
Jelly Belly

Jelly beans – all flavors
Spring Mix Beans
Peter Rabbit Collection Jelly beans
Necco

Candy House Candy Buttons
Banana Split Chews
Mary Jane
Starbursts

Haribo

Happy Hoppers Gummy Candy (big bag & mini bags)
Peach Gummy Candy
Twin Cherry Gummy Candy
Happy Cola Gummy Candy
Gold-Bear Gummy Candy
Sour Patch

Sour Patch Watermelon
Sour Patch Peach, Cherry, Raspberry
Sour patch Fruits
Sour Patch Kids
**We recommend to check ingredients to confirm gluten-free status as manufacturing practices may change.**
About World Gardens Cafe:
World Gardens Café's mission is to create a healthier world by providing quick, healthy alternatives to fast food. Their food helps people of all ages and dietary needs live longer, healthier lives. As the premier provider of home-delivered, fully prepared, healthy gourmet cuisine, World Garden's Cafe specializes in providing gluten-free frozen meals to clients in California, Arizona, Nevada and Utah. The delicious and flavorful meals are prepared by celebrity Chef Ravi and are then carefully packaged, frozen, and delivered to consumers' homes. Customers can purchase food online or via phone, and have the convenient option of delivery or local pickup at Foothill Kitchens which is located at 360 W. Foothill Blvd, in Upland, CA.
For more information visit http://www.worldgardenscafe.com, like WGC on Facebook and Follow WGC on Twitter