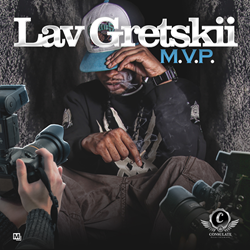 This music is going to make a statement, I'm a New York rapper that's lyrical and commercial not a sell out, just street feel, club feel….turn t all the way up.
New York, NY (PRWEB) April 17, 2014
Coast 2 Coast Mixtapes announces the release of the "M.V.P" Mixtape by Lav Gretskii. The 14 track project is currently available for download. The mixtape is presented by Coast 2 Coast Mixtapes, hosted by Lil Fats, features appearances from Blackcard and Tr3y Pound as well as production from Trey Sizzle, Sonnyboy, Unknownz, and TwantheBeatmaker.
Lav Gretskii is an emcee born in Queens New York, raised on the North Side of Farmers and Linden. Heavily influenced by LL Cool J, Run DMC, Slick Rick, Nas, Biggie, and 50cent; Lav Gretskii grew up in a musical family providing him a strong appreciation for the classics such as James Brown, Al Green and The Temptations. Learning how to rap watching his sister and brother drop rhymes back in the day, Lav grew up with Hip Hop all around him honing his skills at a very young age.
By the age of 17 Lav had already started an entertainment company by the name of The Loop Music Group with fellow artists Goon, Haze, and Joker which later would become North Side Money with the addition of childhood friends Blackcard, Domino, Tr3y Pound and Broadway. As of 2012 Lav found himself being courted by Consulate Entertainment Group's CEO Grizzy, A&R Consultant Peter-John who provided him with the top producers featured on his recently released mixtape entitled "M.V.P".
"M.V.P" is presented by Coast 2 Coast Mixtapes and hosted by Coast 2 Coast CEO Lil Fats. The mixtape stays true to Lav's New York roots featuring heavy hitting beats and street life themes. The variety of production on "M.V.P" takes you up and down but always staying consistent with Lav's steady flow. If you are looking for a mixtape that truly represents what is going on in the streets of New York City, this is the mixtape for you. Keep up with Lav Gretskii on his Twitter page at @Lav_Gretskii.
About Coast 2 Coast Mixtapes
Coast 2 Coast Mixtapes are the most widely distributed mixtapes in the world, with over 100 million downloads/plays generated by over 200 volumes officially hosted by major artists. Coast 2 Coast has a solid reach in the new music industry with a digital magazine, DJ coalition, industry tips blog, yearly convention, and more. Coast 2 Coast Mixtapes represents a unique opportunity for artists of all urban genres, from major to indie. For more information, visit http://www.coast2coastmixtapes.com.