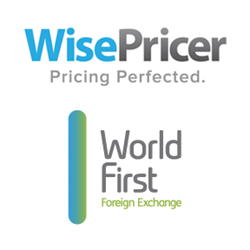 "The partnership is centered on a common mission - to optimize profits for retailers. We look forward to providing added value to each others' clients," said Arie Shpanya, CEO of WisePricer.
San Francisco, CA (PRWEB) April 21, 2014
Today, WisePricer, the premier dynamic pricing engine announced its partnership with World First UK Ltd. World First UK Ltd is the UK's leading foreign exchange company, transacting over £4bn for SMEs around the world in 2012. The partnership aims to help retailers transacting across international marketplaces maximize their bottom line.
WisePricer's pricing engine includes tools such as the SpyAgent, which provides price history analytics and allows retailers to gain valuable insight on competitor pricing strategies to stay one step ahead. Retailers can set automated, customizable repricing rules, making the task of understanding the competitive landscape and responding to markets much easier. WisePricer enables retailers to compete with enterprise level clients that have already been using such tools to achieve higher margins and more efficient revenue growth in an increasingly competitive playing field.
With World First, thousands of E-commerce merchants save money every time they repatriate the proceeds of sales on the biggest international online marketplaces. World First's dedicated service for online retailers is a cost-effective and straightforward solution for expanding international multi-channel sales reach. Achieving better exchange rates means that the savings could be significant, and it is free to open these accounts.
"The partnership is centered on a common mission - to optimize profits for retailers. We
look forward to providing added value to each others' clients," said Arie Shpanya, CEO of
WisePricer. On average, companies that use WisePricer see an average of a 22% increase
in sales revenues, and a 7% increase in bottom line profit. Retailers can further add to their bottom line through the savings achieved with World First. How the savings are used is up to the retailer, whether it be offering more competitive pricing or reinvesting in their ecommerce operations. "We are delighted to be working with WisePricer to give each other's clients access to significant savings, through price optimization and exceptional exchange rates," said Jason Brankin, Global Head of E-commerce at World First.
About WisePricer:
In a competitive and cluttered online marketplace, having an optimal pricing strategy is as important as ever. WisePricer helps retailers price for profit. A full-featured pricing &
merchandising engine, WisePricer monitors, analyzes and reprices products in real-time. With automated repricing and easy sync, online retailers can beat out their competition and increase sales and profits with the touch of a button. WisePricer enables retailers to grow profit margins, price with confidence and improve merchandising through powering the development of a sound pricing strategy. WisePricer offers a suite of products which include WiseMatch, WiseMapper, PriceChecker, and PriceFinder and are designed to give retailers the edge they need to stay ahead of the game.
About World First:
As the market increasingly demands cross-border trading, it makes sense for online sellers to consider the margins they make or sacrifice when moving money between currencies, allowing them to optimize prices to achieve higher sales. World First assists online sellers working across multiple international marketplaces and currencies to achieve greater control over their funds and better exchange rates. World First does this by setting up non-domestic receiving bank accounts on behalf of clients, so that they can receive payments from marketplace sales. Using World First, sellers can then repatriate revenues back to their home bank account at better exchange rates than the marketplace.