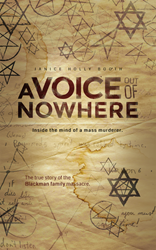 People with severe mental illness are still capable of planning and executing sometimes very detailed and complex plans. Attacks don't have to be spontaneous to be psychotic.
Charlotte, NC (PRWEB) April 17, 2014
What would possess a quiet, 16-year-old boy to launch an unprovoked knife attack on his classmates, wounding 21 of them, some critically? Why would 25-year-old Kevin Edson commit a bomb hoax at the heavily guarded Boston Marathon then stagger barefoot in the rain yelling Boston Strong? Both incidents happened within a week of each other and while no-one was killed during these events, they are reminders that people suffering with severe, untreated mental illness often can and do pose a significant threat to themselves and others, says author Janice Holly Booth whose new book "A Voice out of Nowhere: Inside the mind of a mass murderer" chronicles the descent of one young man into mental illness where voices and delusions led him to massacre his family.
Alex Hribal, the stabber, and Kevin Edson, the hoaxer, have both been arrested and sent for a psychiatric evaluation. "When you look at the available details of these incidents they really do point to some sort of mental issue," says Booth. Edson has been dealing with mental illness for some time; Hribal has no history of it. "It may seem impossible but schizophrenia symptoms can manifest quickly and become severe in a very short period of time," says Booth. The subject of her book, 22-year-old Bruce Blackman, had exhibited bizarre and inexplicable behavior a mere 46 days before he embarked on his killing spree. In "A Voice out of Nowhere," Booth takes the reader inside the mind of Blackman before, during and after he succumbs to mental illness. The non-fiction novel is Amazon's #1 best-seller in schizophrenia.
Looking for a motive is an exercise in futility, says Booth. "There is a misconception that if a person who commits a violent crime is mentally ill then the crime must have happened spontaneously. That's not the case. People with severe mental illness are still capable of planning and executing sometimes very detailed and complex plans. Attacks do not have to be spontaneous in order to be psychotic in nature. The crimes don't have to make any sense to us, and usually they don't, but they make perfect sense to the mentally ill person committing them."
Booth advocates for better mental health care and early intervention, which is the bump in trajectory that can prevent tragedies like Sandy Hook and the Aurora movie theatre shooting from happening in the first place. "We ignore the issue of effective mental health care at our peril," says Booth. "These incidents are not going to stop until we make some monumental changes to the mental health care system."
ABOUT JANICE HOLLY BOOTH: Janice Holly Booth was born in British Columbia where she worked in the criminal justice system before moving to the US and becoming a non-profit CEO. She's an avid solo traveler and has written a best-selling travel memoir for National Geographic called Only Pack What You Can Carry. Her most recent book, A Voice out of Nowhere, is a national best-seller. Janice lives near Charlotte, NC and is a full time writer and speaker.