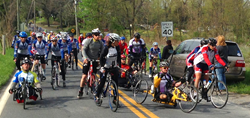 The Face of America provides a perfect opportunity for companies such as Footstomp to meet face to face with their target audience.
Holbrook, NY (PRWEB) April 17, 2014
Footstomp.com, an innovative social network for injured service members, veterans, their families and caregivers is joining with World T.E.A.M. Sports to support the organization's annual Face of America bicycle ride from Washington to Gettysburg April 25-27.
Launched at the 2013 Warrior Games in Colorado Springs, the online social network was created to provide connections for the Military Adaptive Sports community. Recognizing a growing need of the community for sharing news and information about events, people and organizations, Footstomp.com serves as the primary marketing outlet for the Department of Defense's Military Adaptive Sports Program under the Office of Warrior Care Policy.
"The Face of America provides a perfect opportunity for companies such as Footstomp to meet face to face with their target audience. We want to use the ride as an opportunity to provide information to our participants, in addition to having a great weekend," said Van Brinson, World T.E.A.M. Sports CEO and President. "We hope to be able to partner with Footstomp on future events as well."
At the Face of America ride, a two-day, 110-mile bicycle journey from the Pentagon in Arlington, Virginia to the historic battlefields of Gettysburg, Pennsylvania, nearly 150 injured veterans from all branches of service will ride bicycles, hand cycles and recumbents alongside active-duty military personnel, retired veterans and civilians. The ride concludes at a gala celebration and lunch in Gettysburg on April 27. Footstomp.com is sponsoring this afternoon festival that will honor the exceptional accomplishment of the participating injured veterans.
"FootStomp is excited to be a sponsor for the Face of America ride," said Footstomp.com CEO Todd Weiler. "This marks a major expansion and outreach as we grow to incorporate the Veteran adaptive sports community."
In its eighth year traversing the scenic byways and roads of western Maryland, the Face of America is one of the largest non-competitive bicycle rides in the Washington DC region. Participating riders assist and support each other and able-bodied riders provide a helping hand or words of encouragement to injured veterans during some of the steeper hills of northern Maryland. Originally run in 2000 as a cross-country ride with two teams meeting under the Gateway Arch in St. Louis, the ride served as the official 9/11 commemorative ride in 2002 and 2003. In 2002, more than one thousand riders participated in the three-day ride, which began at Ground Zero in New York and ended at the Pentagon. This year's ride is the largest for the non-profit World T.E.A.M. Sports since the 2003 Face of America, with registered participants from 39 states, Canada and Europe.
The 2014 Face of America Ride is supported through sponsorships from Capital One Bank, Booz Allen Hamilton, Benson Botsford LLC, BODYARMOR, FootStomp.com, Deven's Recycling, Fidelity & Guaranty Life, Freshbikes, General Electric, Penske Truck Rental, Subway of the Walter Reed National Military Medical Center, Three Wire Systems LLC, Vedder Price and Veterans Corps of America.
About Footstomp.com
FootStomp.com is the social network representing the Military Adaptive Sports Program (MASP). Headquartered in Arlington, Virginia, FootStomp.com is a tool to reach Wounded, Ill, and Injured Service Members, Veterans, their families and caregivers in order to encourage their participation in military adaptive sports. MASP provides recreational activities and athletic opportunities to Recovering Service Members and Veterans to enhance and improve their quality of life during recovery. FootStomp.com is the place to connect with other Warrior Athletes, coaches, advocates and fans, as well as find out about clinics, camps, and sporting events in your area. Accessible via desktop or mobile, FootStomp.com contains photos, videos, articles, blogs, success stories, information about adaptive sports equipment and much more. Membership on FootStomp.com is always free and we are proud to advocate for those that are currently serving or have served our country.
About World T.E.A.M. Sports
World T.E.A.M. Sports is a 501(c)(3) not-for-profit organization chartered in North Carolina and headquartered in Holbrook, New York. Since 1993, World T.E.A.M. Sports has organized athletic events for disabled and able bodied citizens – mountain climbing, white water rafting, biking, and more. Four things always happen at our events: (1) Disabled participants build self-confidence and physical fitness; (2) The disabled provide a role model for other disabled citizens, encouraging them to take up physical activities; (3) The disabled become a moving inspiration to other participants and to spectators when they see that disabled individuals can meet challenges beyond anyone's imagination; and (4) The disabled and able-bodied participants learn to work as a team to overcome those challenges. World T.E.A.M. Sports changes lives through sports.