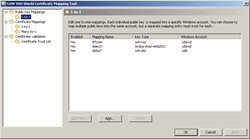 The new version of the GSW UTS includes several new features and security measures.
Dawsonville, Georgia (PRWEB) July 15, 2014
Georgia SoftWorks announces the release of their UTS (Telnet Server for Windows and SSH Server for Windows) Version 8.05.0029. The GSW UTS is excellent with mobile devices in RFID, RF Terminal, Bar Code scanners and other data collection and wireless environments.
The new version of the GSW UTS includes several new features and security measures. The IPv4 and IPv6 matching criteria now allow for single star characters to act as a 'match all'. The Georgia SoftWorks SSH Desktop Client now includes Elliptic Curve Cryptography support for server-to-client authentication, key exchange, and public key authentication. Public key authentication has additional supported types of public keys. The GSW Certificate Mapping Tool has also been modified to allow for public key to user account mapping.
The Telnet Server for Windows release goes in conjunction with the SSH Server for Windows feature release. Together, they create a simple to implement security plan that truly offers End-to-End security.
"We provide the strongest authentication features offered by an SSH Server for Windows, that works along with our UTS," said Doug Hitchcock of Georgia SoftWorks. "A security breach can be extremely damaging and we make sure that we can provide the best on the market for our customers."
Georgia SoftWorks is a software development company that has received global recognition for its development of the GSW Telnet Server for Windows and SSH Server for Windows. GSW software is used in thousands of data collection environments around the world. They have end users and resellers on every continent except Antarctica. Their software is sold in demanding industrial applications including automobile manufactures, oil companies, airlines, grocery stores, the US Army, department stores, universities and more.
About Georgia SoftWorks:
Established in 1991, Georgia SoftWorks is a privately held software development company recognized for creating high performance data communications, system and telecommunications applications. Georgia SoftWorks has obtained a worldwide presence with its industrial SSH2/Telnet Server for Microsoft Windows. GSW's long-term commitment to SSH2/Telnet has led to the pioneering of major features such as Session Shadowing, Session Monitoring, Graceful Termination, Automatic Logon, Logon Scripting and more recently Team Services technology which allows mobile device users to transfer, swap, share and recover mobile device sessions. GSW has also provided the very first SSH Server to provide Digital Certificate Authentication with an Internet Information Server (IIS) like certificate-to-user account mapping. This includes 'One-to-one' and 'Many-to-one' mapping methods and also supports certificate trust lists (CTL).