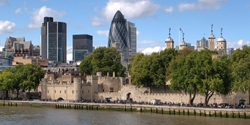 "Having an office in London enhances our ability to support our clients not only in Europe, but many other far-reaching parts of the world as well," Kevin Moran, President - MSS
Scottsdale, Arizona (PRWEB) April 18, 2014
In continuing efforts to enhance servicing of international clients and take advantage of expanding global research demand, MSS, the pioneering U.S. Market Researcher focused on "influencer marketing" and brand strategy and tactics development, today announced the opening of a London office.
"Our volume of global research continues to increase year over year, with greater than 60% of our revenue derived from outside the US. As such, it is critical to serve our growing clientele with a physical global presence," said MSS's President Kevin Moran. "Having an office in London – the center for European research – enhances our ability to support our clients not only in Europe, but many other far-reaching parts of the world as well. It also allows for more immediacy to communications and flow of research and consulting engagements."
To lead the new office, MSS has promoted Susan Luebke to Director, Global Research and Analytics. Ms. Luebke is talented in orchestrating multi-faceted global qualitative and quantitative research efforts, actionable analytics, reporting, and recommendations with project leadership from inception to delivery. An instrumental asset to MSS, she directs or has directed large-scale transformation initiatives with top tier corporations such as Bacardi International, Diageo, Remy, Pernod Ricard, Moet Hennessey USA, Microsoft, LG Electronics, BlackBerry, Sony Electronics, Michelin, Shell, Exxon Mobil, BP, P&G, and more.
"We are fortunate to have an individual of Susan's caliber lead our London effort," Moran said. "She's widely respected for her strategic acumen and has broad experience in global research strategy. That makes her a great fit to expand our global capabilities."
MSS offers affordable, multi-sponsored, 'near custom' market research to help marketers develop tools to optimize their brand's direct to the trade marketing and sales programming to drive brand recommendations at the point of purchase. "Over the years, we have quantified and validated the importance of the Influencer," said Moran. "That person is in the face of the customer and his critical role in driving sales at the point of purchase cannot be ignored."
MSS' staff is composed of highly trained, research professionals with a vast array of expertise on a global basis. MSS performs at the very highest standards of research protocol and provides a wealth of actionable information about Influencers in 19 categories from beverages to passenger car lubricants in over 30 countries, at a cost-effective price. For more information, about our Influencer studies visit us at http://mssmulti.com/our-studies or call 480-595-4754 ext. 1227.