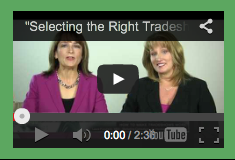 "Selecting the RIGHT Shows is all about Due Diligence for an ROI."
Albuquerque, NM (PRWEB) April 17, 2014
Join EXHIB-IT! and Marketing to Go on April 22, 2014 from 10-11:30 am PDT for the second free webinar in their quarterly series, The Noise Behind Business: How to Make Trade Shows Work. Stop throwing darts at the wall when deciding where to make a trade show investment and learn how to increase trade show ROI.
More than 14,000 trade shows are happening in the US this year. As many as half of all attendees have buying power on behalf of their companies, making it more important than ever for companies to choose the right trade shows to exhibit and attend.
In this webinar you will learn ways to increase trade show ROI and:

The process for selecting the right shows
Why you should budget before selecting shows
How to get the buy-in from all the relevant players in the company
Know and understand the value of 10-point litmus test
How to tie in technology with your objective
At the end of the webinar, all attendees will receive the book The Noise Behind Business, by DJ Heckes, the founder of EXHIB-IT! Additional webinars in the How to Make Trade Shows Work for You series will take place on July 22, 2014 and October 21, 2014. Registration for all webinars can be made on the EXHIB-IT! website: http://www.exhib-it.com/noise-behind-business-webinar.
Special thanks to Nomadic Display, the world's leading producer of high-quality custom modular and portable trade show displays for sponsoring each of our 2014 webinar series.