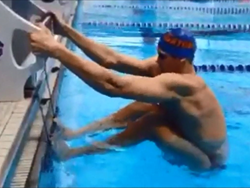 Pulling the wedge down, finding its preferred position and locking takes just a few seconds. I think it's a great device for all backstrokers.
Missoula, MT (PRWEB) April 17, 2014
Spectrum Aquatics, a leading manufacturer of commercial pool equipment, has recently developed an automatic anti-slip backstroke start "wedge" (patent pending) designed to improve the starts of competitive backstroke swimmers. Spectrum's innovative backstroke wedge is compatible with any style of starting platform, works with any pool configuration, is easily adjustable, and automatically retracts up and out of the water so as not to interfere with flip turns and touchpad interactions.
Backstroke swimmers routinely risk a "slipped" start caused by slippery touchpads during the start of a backstroke race. USA Swimming and FINA rules currently permit a swimmer to place his or her feet anywhere on a touchpad during the start of a backstroke race, and Spectrum's backstroke wedge allows swimmers to retain this freedom. Similar wedge products being placed into the market only provide a limited number of set positions on the touchpad, thereby limiting a swimmer's ability to choose the most comfortable starting position based upon the swimmer's height and/or level of flexibility. Furthermore, other products must be manually removed after the start by timers or officials. Spectrum's backstroke wedge employs an auto-retract feature, eliminating the need for any manual assistance.
Several elite backstroke swimmers and coaches have been testing the product, all with positive feedback. "My personal opinion on the wedge is that I find it very comfortable and definitely helpful for the backstroke start. When using this wedge, I feel like I can apply all the power pushing myself off the wall without being afraid of slipping off it. Before that, I've always had to compromise on the power of the push on all types of start pads and walls. It is also very easy and fast to use. Pulling the wedge down, finding its preferred position and locking takes just a few seconds. I think it's a great device for all backstrokers," stated Arkady Vyatchanin, Olympic medalist in the 100 and 200 meter backstroke.
David Berkoff, four-time Olympic backstroke medalist and swim coach, also commented, "My swimmers range in age and ability level from first-year six-year-olds to nationally-ranked athletes. All of them are able to easily and quickly set the wedge. Start times are on average about .25 seconds faster than a flat wall start. Plus, the swimmers think the wedge is really cool."
Patrons interested in the backstroke start device can contact us to remain updated on product release information, and a video demonstration by Arkady Vyatchanin can be viewed here: https://www.youtube.com/watch?v=l-XogqEBdrk.
About Spectrum Aquatics®
Spectrum Aquatics is a leader in the aquatics industry and has been committed to the development of high-quality competitive swim and commercial aquatics equipment for the past 40 years. The company is headquartered in Missoula, MT and is a division of PlayCore. More information is available about Spectrum Aquatics at http://www.spectrumproducts.com.
About PlayCore®
PlayCore helps build stronger communities around the world by advancing play through research, programs, and partnerships. The company infuses this learning into their complete family of brands. PlayCore combines best in class planning and education programs with the most comprehensive array of recreation products available to create solutions that match the unique needs of each community we serve. More information is available about PlayCore at http://www.playcore.com.