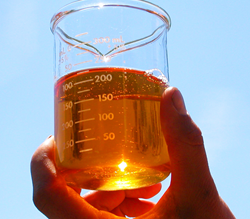 We want to share factual and experiential information in the hopes that more people can benefit.
Chico, CA. (PRWEB) April 17, 2014
Clean-tech manufacturer Springboard Biodiesel will host a free and informational webinar on Earth Day, April 22, at 11:00 am PST, on the topic of "Biodiesel and the benefits of small-scale production."
The webinar will provide individuals, business leaders and institutions interested in learning more about this renewable, clean-burning resource, first-hand information on relevant topics including how to manage a small-scale production program. Specifically, the company will share information on: how biodiesel is made, best practices for maintaining high quality output, facts vs myths of biodiesel, a cost analysis of small-scale biodiesel production, a comparison of emissions, and case studies from the field. The registrations page can be found here.
Springboard Biodiesel has been manufacturing small-scale biodiesel processing equipment for six years and is best known for the BioPro™ line of automated processors. According to the company's website, BioPro™ and SpringPro™ equipment are currently operating in 21 countries and in all 50 states. Recently, the company announced that it is selling premium-grade biodiesel to local buyers in Northern, CA.
Springboard's CEO Mark Roberts will be one of the presenters on the webinar. He said in a statement, "Many people don't know what biodiesel is or how many diverse vegetable and animal sources it can be made from. When people learn they can make it, easily, in some cases for less than $1.00 per gallon, that's when they tend to sit up." Roberts also points out that webinars on this topic are not common. He added, "We've been working with small-scale producers for six years now and we continue to be amazed by the opportunities and success stories that come in from our producers as well as the misperceptions that get passed off as facts. We want to share factual and experiential information in the hopes that more people can benefit."
About Springboard Biodiesel: Springboard Biodiesel is a Chico, California-based clean-tech manufacturer who's innovative and patented products enable low cost biodiesel production from multiple feedstock sources. By enabling low cost entry into the biodiesel fuel production market, Springboard seeks to accelerate the proliferation of biodiesel at the local level, thereby promoting operator profitability and measurable emissions reductions.