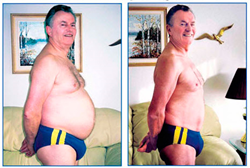 It's not about the money... although we like the money too... the greatest reward is seeing someone's life change right before your eyes - literally !
(PRWEB) April 18, 2014
Twelve years ago, a man in his late sixties had a wake-up call when he realized that friends his age were increasingly beginning to suffer from a multitude of health problems and some were even starting to die. Not wanting to be another statistic, Peter Oelmann quit a 40 year smoking habit only to gain an unhealthy pot belly for the first time. Peter knew in his heart that trading one health risk for another was not the solution - he had to lose this weight.
Peter, almost by pure happenstance, was introduced to a revolutionary nutritional cleansing and fat-burning system that helps the body's systems to eliminate hazardous impurities. Peter lost weight quickly and safely and decided, along with his wife Carole Taylor, to share this gift with anyone who would listen. 12 years later, over 800 000 people have heard their message loud and clear and thousands of lives have been transformed in the process. Peter has not only kept the weight off but he now feels better than he has in decades.
Peter and Carole have also become millionaires 14 times over simply by helping other people change their lives, lose weight and get healthy. This dynamic duo have also brought many people along for the ride helping 71 other ordinary people to create extra-ordinary results... and become healthy, happy and fit "role-model" millionaires. It is unbelievable to think that Peter's journey started for him at age 67. "Imagine starting at 27... 37... 47... 57... where could YOU be !"
The Healthy Weight Loss Team is the latest offshoot of their crazy ride to health and wealth and they are always inviting anyone who wants to become healthy, fit and wealthy to join their cause. Take care of yourself ... then help others so that you don't go back to your old ways.
Just like doctors and social workers couldn't seem to help alcoholics back in the day, it seems the best cure for obesity is people helping other people and offering support. It seems the best help comes from people who have been there and dealt with the problem.
It is all about having fun ... wanting to be healthy and happy... sharing your story with others and offering support. It's that simple. There is also a very real and attainable business opportunity.
In addition to the epidemic of obesity and all of its related diseases, there is also a growing dissatisfaction over working conditions, and today's business landscape in general, among workers, business owners, professionals and career people. People want more for less. Competition is ferocious and the concept of job security is an all but forgotten vestige of the past.
It is refreshing to be able to genuinely help people, form new friendships, enable positive change in the lives of others and make some money at the same time. Being rescued from financial hopelessness is now just as attainable as losing weight and getting healthy. We have personally seen thousands of peoples' lives change for the better both financially and health-wise. Single mothers, professionals and non-professionals alike who are burned out and tired of the rat race... now have an opportunity to shine and prosper!
Right Place at the Right Time
The Healthy Weight Loss Team could not be better positioned as there are no shortage of fat and unhealthy people out there just waiting for the right time to make a change. People are joining the Team every day. Better health is on many people's minds. Everyone wants to feel "Even Better" and no one wants to get old. These people seem to have something to offer everyone.
Who has been Joining?

People who want to lose weight
people who want to gain weight
People who want more energy
People who want to enhance athletic performance
People who are young
People who are old
People who want better health
People who want to help others
People who want a new career
People who want to contribute
The Team Produces its own video... just for the fun of it!
The whole team chipped in to produce this video as yet another way to share the message. They wanted to explain what they do and how they do it in a fun and simple way. Their newly launched video does this and clearly explains how this system helps people to lose weight safely.
Maybe this story is not that surprising after all, given that Peter, a former Johnson and Johnson Canada chief engineer, decided to use his analytical approach and chose a science-based nutritional cleansing and fat burning system to experiment with for his weight-loss project.
With the support of the entire Team... people are losing weight, improving their health, getting fit, and making new friends! Others are starting new careers in this "people-helping" business. Some are making extra pocket money, some are paying off their mortgage... sending the kids to university... and somebody will soon become Millionaire Number 72.
Curious to know more? The Healthy Weight Loss Team are there to help.
If you or someone you know needs help losing weight, simply leave your contact information by filling out their contact form at http://healthyweightlossteam.com