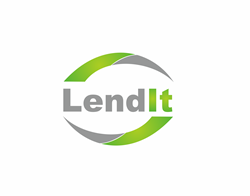 New York, NY (PRWEB) April 17, 2014
LendIt (http://www.lendit.co), the world's largest P2P and online lending conference, is pleased to unveil the preliminary agenda for its flagship conference taking place at the Hilton Union Square in San Francisco, May 4 – 6.
The two-day program will be filled with dynamic, leading-edge content; the world's largest P2P industry expo featuring over 37 exhibitors; more than 40 company demos and educational workshops; unmatched networking opportunities as well as a number of special events including exclusive cocktail celebrations and the presentation of the LendIt Innovator of the Year Award.
The program will encompass insights from leading online lending platforms and experts in consumer, small business, student, and international online lending such as Ratesetter, SoFi, OnDeck Capital, and Kabbage. Sessions will also encompass key analysis from institutional investors, venture capitalists and regulators. Important topics such as technology and online lending infrastructure, alternative data in credit decisioning and securitization will also be covered in depth by the biggest names in the industry.
"Since its inception, the P2P and online lending industry continues to explode with new technologies, solutions and applications. In addition to providing attendees with an unrivaled opportunity to interact with industry leaders and pioneers, LendIt is known for delivering trend-setting programming that enables them to remain on the forefront of industry innovation," said Peter Renton Co-founder of LendIt and Founder of Lend Academy.
Some of the presenting and exhibiting companies include:
Afluenta, AngelList, Assetz Capital, auxmoney, Barclays, BDO, Biz2Credit, Blue Elephant, Borrowers First, Capital Source, CAN Capital, China Rapid Finance, Circleback Lending, CircleUp, Cloud Lending, CommonBond, CreditEase, Cross River Bank, Crowdnetic, Dealstruck, DianRong, Direct Lending Investments, Disruption Credit, Eaglewood Capital, Equifax, First Associates, FolioFN, Foundation Capital, Freedom Financial, Fundera, Funding Circle, Fundrise, Goodwin Proctor, iFunding, Insikt, Kabbage, Kingdom Trust, Lend Academy, Lenddo, Lending Club, Lending Home, LendInvest, LendKey, LendUp, Lendvious, Liberum Capital, Lufax, Merchant Cash & Capital, Millennium Trust, Nickel Steamroller, NoteX360, Nortridge, NowStreet Wire, OnDeck Capital, Opus Fund Services, Orchard, Patch of Land, PAVE, PeerTrader, Pepper Hamilton, Petra Partners, Prime Meridian, Prodigy Finance, Prosper, QED, RainFin, Raiseworks, Ratesetter, Realty Mogul, Realty Shares, Richards Kibbe & Orbe, Shacom, SoFi, Strategic Funding Source, Three Bridges, Toniic, Tuition.io, Upstart, Victory Park Capital, ZestFinance, and Zopa.
The event's full agenda can be downloaded at http://www.lendit.co.
LendIt caters to international P2P platforms and providers, institutional investors, financial analysts, private wealth managers, family offices, individual investors and media representatives.
Attendees are encouraged to register in advance in order to ensure ticket availability. Additionally, LendIt has room blocks at discounted rates, available for a limited time, at the Hilton. Attendees can register and book their rooms at http://www.lendit.co/2014/.
Buy-side institutions interested in purchasing their LendIt 2014 tickets with soft-dollars, via Instinet, should contact dara(at)lendit(dot)co.
Press Registration Information
Credentialed members of the news media may receive complimentary registration which includes access to the entire program including the exhibit hall. If you are a member of the media and interested in a press pass, please email press(at)lendit(dot)co.
About LendIt
LendIt is the preeminent global conference organization dedicated exclusively to the P2P and online lending industry. LendIt events showcase leading and emerging online lending platforms, the ecosystem of Big Data companies that are serving the sector, as well as the Wall Street firms that are providing innovative financing structures and investment capital to this rising asset class. In addition to the leading P2P and online lending platforms, LendIt 2014 is expected to draw institutional investors, financial analysts, private wealth managers, family offices, individual investors and media representatives from across the globe.