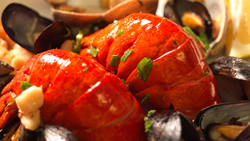 (PRWEB) April 17, 2014
As the Easter holiday arrives this weekend, thoughts turn to a celebration dinner that will please everyone around the table—and nothing adds elegance to a holiday dinner more than the presence of delectable seafood and Maine lobster.
To help celebrate, the world-class chefs at GetMaineLobster.com have been hard at work creating inspired recipes and holiday specials for Easter, from Early Spring Lobster Ceviche to Lobster Citrusy Salad with Wild Arugula.
GetMaineLobster.com offers an expansive array of Maine lobster selections, including whole lobster, lobster tails, and hand-picked lobster meat. GML also offers Maine Diver Scallops, seafood cakes, chowder, surf and turf dinners and even desserts. Deliveries include cooking instructions, and their website is chock-full of enticing recipes.
Thursday, April 17, is the last day to order seafood and Maine lobster with 2-day delivery. Orders placed Friday, April 18, will require overnight delivery. For more information, visit online or call GML at (866) 562-4817.
GetMaineLobster.com Standards:
GML's live Maine lobsters are caught by Maine lobstermen/women, dedicated to preserving the sustainability of the Maine lobster industry and engage in practices that ensure its health. Lobsters are hand-selected with care and humanely by experienced lobster-handling experts and packaged with sustainable, environmentally-friendly materials.
About GetMaineLobster.com:
GetMaineLobster.com, a division of Black Point Seafood and Black Point Gourmet, hand-selects the finest Maine lobster, seafood and beef products for convenient distribution throughout the United States. Their passion is to make fresh, quality seafood readily available to customers across the country, which is why they buy from only the most trusted, well-established suppliers to ensure that they receive the finest products available.
GetMaineLobster.com was selected out of the more than four million small American businesses served by Chase bank to represent its new Platinum Business Checking product for its 2013 national advertising campaign.